French-American Festival: Planning, Jun 9, 1964 - Jul 16, 1965
ID:

015-13-01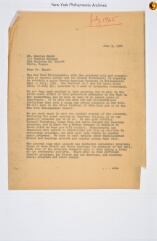 Contact Us
to access this folder.
Folder Title
French-American Festival: Planning
Dates
Jun 9, 1964 - Jul 16, 1965
Subjects
Names
Abstract
LS-Leonard Bernstein, LS-Carlos Moseley. Letters to major conductors requesting engagement with NY Philharmonic for French-American Festival; Lukas Foss engaged as Artistic Director of French-American Festival; Program outline for Festival; Festival brochures; Ticket pricing; Address Lists; Artist fees and contracts; List of conductors and artists; Rehearsal schedules.
Project Funder
Preferred Citation
French-American Festival: Planning, 9 Jun 1964 - 16 Jul 1965, Folder 015-13-01, Executive Records, New York Philharmonic Leon Levy Digital Archives.
https://archives.nyphil.org/index.php/artifact/87051094-279c-41d2-a45e-3a960b170f28-0.1