Found In:
Programs >
1925-26 Season >
Subscription Season
1925 Dec 27 / Subscription Season / Damrosch
ID:

8762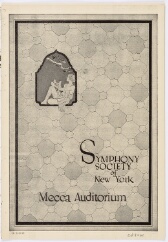 View Program
Notes
The Virgin Mary - Phyllis Archibald
The Star - Flora Negri
Jeanette - Helen Gaubis
Nicolas - Gladys Halstead
Lubin - Helen White
The Ox - Victor Prahl
The Ass - F. S. Hennessey

The Three Kings and their Retinue, Angels, etc., etc., and a Chorus of 150 Children from the Public Schools of New York, George Gartlan, Musical Supervisor.
Setting Designed and Executed by P. Dodd Ackerman
Staged under the direction of Gretchen Damrosch Finletter

(originally this entry listed Golschmann as the conductor -- not sure why, NY Times review states that Damrosch conducted, as does the program.)

The Symphony Society Bulletin was a newsletter produced in advance of the New York Symphony concerts. It is not known at this time if what was programmed actually happened. There is no known complete set of New York Symphony programs so all performance information is compiled from a variety of sources.
Project Funder:
Collection Guarantor: