Found In:
Communications/Public Relations > Press Clippings
1944-45 Scrapbook (Part 3 of 3), Apr 1, 1945 - Jun 17, 1945
ID:

555-047-03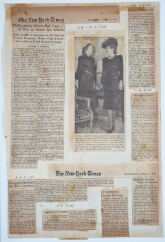 View Folder
Record Group
Communications/Public Relations
Series
Folder Title
1944-45 Scrapbook (Part 3 of 3)
Dates
Apr 1, 1945 - Jun 17, 1945
Subjects
Names
Abstract
- Finnish composer Jan Sibelius struggles to receive royalties during the war, because for one year Finland was classified as an enemy country. The Philharmonic sends him \$1,000 in two installments to make up for the loss. Sibelius expresses his thanks but is embarrassed by the publicity of his affairs - Robert Casadesus and Artur Rodzinski join forces for a concert to benefit the Red Cross War Fund. The concert was led by a special sponsoring committee, the head of which was Eugenie Stiles Breed - Profile of conductor/composer Lukas Foss - Works of two young composers, Schuyler and Edward Earle, performed at YPC on 7 Apr 1945 - Death of President Franklin D. Roosevelt; the Philharmonic cancels a concert scheduled that night for the second time in the Society's history - Death of composer and former Philharmonic organist Dezso D'Antalffy - Bruno Walter conducts Bach's "St. Matthew Passion" featuring the Westminster Choir, directed by John Finley Williamson, and soloists Nadine Conner, Jean Watson, William Hain, Mark Harrell, Francesco Valentino, and Lorenzo Alvary - Conference of Women's Committees of Symphony Orchestras in 17 cities is held in New York
Project Funder
Preferred Citation
1944-45 Scrapbook (Part 3 of 3), 1 Apr 1945 - 17 Jun 1945, Folder 555-047-03, Communications/Public Relations Records, New York Philharmonic Leon Levy Digital Archives.
https://archives.nyphil.org/index.php/artifact/8be19ff7-e7b4-4424-8ae4-770148fa5143-0.1