Found In:
Communications/Public Relations > Press Clippings
1951-52 Scrapbook (Part 1 of 2), Sep 1, 1951 - Jan 3, 1952
ID:

555-060-01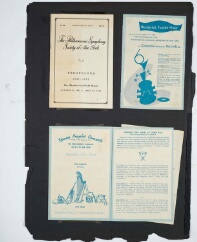 View Folder
Record Group
Communications/Public Relations
Series
Sub-Series
Size
Folder Title
1951-52 Scrapbook (Part 1 of 2)
Dates
Sep 1, 1951 - Jan 3, 1952
Subjects
Names
Abstract
- Controversy over Berg's Wozzeck - CBS to present live broadcasts of Sunday afternoon concerts of the New York Philharmonic - Philharmonic faces its largest deficit - Repeal of the 20% Federal Admssions Tax - Plan for New York Philharmonic Mediterranean Tour in the Spring - Dimitri Mitropoulos opens the season with the American Premiere of Ferruccio Busoni's opera Arlecchino, A Theatrical Capriccio in One Act, and a rare performance of Mozart's Sinfonia Concertante for Oboe, Clarinet, Horn and Bassoon, featuring first desk players from the orchestra - John Corigliano performs Szymanowski's Violin Concerto No 1 - Mitropoulos conducts the Mahler Symphony No. 1 - Mediterranean Tour is postponed to 1953 due to deficit - Philharmonic returns to the Edinburgh Festival a surplus of \$8,500 - Mitropoulos conducts the Philharmonic premiere of Vincent d'Indy's Wallenstein, to mixed reviews, on the 100th anniversary of the composer's birth - Constance Keene plays Chopin's Piano Concerto No. 1 in E Minor in her Philharmonic debut with Dimitri Mitropoulos - Profile of composer Stefan Wolpe, in anticipation of performances by the Philharmonic of his First Suite from the ballet The Man from Midian - Gregor Piatigorsky plays Haydn's Cello Concerto in D - Gina Bachauer plays Rachmninoff's Piano Concerto No. 3 with Mitropoulos in Washington and New York - Washington concert by Gina Bachauer and Mitropoulos was followed by reception at Greek embassy; proceeds from the concert were donated to the Greek Children's Relief Fund - Roy Elihu Travist awarded first prize for Symphonic Allegro, to be played by the Philharmonic in December under Mitropoulos - American Premiere of Schoenberg's Erwartung with Dorothy Dow and the Philharmonic conducted by Mitropoulos - Philharmonic celebrates 5,000 concerts - Guido Cantelli, Toscanini protege, joins Philharmonic as conductor - Bruno Walter embarks on 10-week European conducting tour - Death of Adolf Busch - Jean Casadesus makes his solo Philharmonic debut playing Saint-Saens' rarely performed Piano Concerto No. 5 - 15-year old Michael Rabin, son of Philharmonic violinist George Rabin, makes his Philharmonic debut playing Paganini's Violin Concerto No. 1 - Rudolf Serkin scores with his outstanding performance of Brahms D Minor Piano Concerto with Mitropoulos - Strong critical reception to the World Premiere of Symphonic Allegro by Award Winner Roy Elihu Travis played by the Philharmonic under Mitropoulos - Guido Cantelli conducts the NBC Symphony prior to his engagement with the Philharmonic - Jascha Heifetz acclaimed for his outstanding performance of the Brahms Violin Concerto with George Szell including an original cadenza by Heifetz - George Szell conducts the 5,000th performance of the New York Philharmonic including the New Overture In D by Johann Kalliwoda, played at the first concert in 1842, and Bartok's Divertimento for String Orchestra - Eleanor Roosevelt attends the 5,000th Philharmonic concert - Nathan Milstein praised for his performance of Beethoven's Violin Concerto with Szell - Great acclaim for the recording of Berg's Wozzeck from live performances in April 1951 by the Philharmonic under Mitropoulos and distinguished soloists - Praise for Erica Morini's performances of the Mendelssohn Violin Concerto with Szell - Mitropoulos compares music and sports
Project Funder
Preferred Citation
1951-52 Scrapbook (Part 1 of 2), 1 Sep 1951 - 3 Jan 1952, Folder 555-060-01, Communications/Public Relations Records, New York Philharmonic Leon Levy Digital Archives.
https://archives.nyphil.org/index.php/artifact/8c94fd0d-b63d-4b18-8d7c-944291211981-0.1