Found In:
Communications/Public Relations > Press Clippings
1937-38 Scrapbook (Part 1 of 2), Sep 1, 1937 - Jan 21, 1938
ID:

555-028-01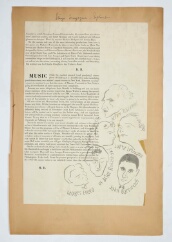 Record Group
Communications/Public Relations
Series
Folder Title
1937-38 Scrapbook (Part 1 of 2)
Dates
Sep 1, 1937 - Jan 21, 1938
Subjects
Names
Abstract
- Toscanini is engaged as music director of the NBC Symphony - Victor Records releases Toscanini recordings - Philharmonic announces 1937-38 season, which will include 35 new major works, including some world premieres, American premieres, and New York Premieres - Season opening program features world premiere of Sir Henry J. Wood's transcription of Handel's Alcina - World premiere of Gardner Read's Symphony No. 1, - World premiere of David Gregory Mason's Symphony No. 3 ("Lincoln"), winner of the Philharmonic Symphony's American Composer Contest from the previous season - Death of Felix Warburg, banker, philanthropist, and Philharmonic board member; Philharmonic pays tribute at concert on Sunday 24 Oct by performing the Dirge from Edward MacDowell's "Indian Suite" - Philharmonic run-out to Princeton, NJ to perform in first concert of University Series - Profile on Bartók and his Music for Strings, Percussion, and Celesta which will receive its American debut by Barbirolli and the Philharmonic - Cover and article from Musical America, Vol. LVII, No. 16, 25 October 1937 - Eleven-year-old Julius Katchen performs as soloist with the Philadelphia Orchestra with Mozart's D minor piano concerto - Ernest Schelling cancels conducting engagements due to eye injury; Barbirolli covers YPC in his absence - Article and analysis of Mason's Symphony No. 3 ("Lincoln") written by Lawrence Gilman - New York premiere of Delius' Appalachia - Pianist/composer Isidor Achron performs the world premiere of his own piano concerto with the Philharmonic - Alexander Koszegi, Philharmonic member and violist, passes away at 57 - Amparo Iturbi appears as soloist with the Philharmonic, covering for a ill Guiomar Novaes - Maurice Van Praag accused of associating with communist organizations - Georges Enesco featured as guest conductor and offers three Romanian works their American premieres: Enesco's own Romanian Rhapsody No. 1, Op. 11*, Burial at the Cemetery of the Poor by Rogalski, and Dance in C major, Op. 3, No. 2 from Three Symphonic Tableaux by Andrico *Note: Press misattributes Enesco's Romanian Rhapsody to Stan Golestan
Project Funder
Preferred Citation
1937-38 Scrapbook (Part 1 of 2), 1 Sep 1937 - 21 Jan 1938, Folder 555-028-01, Communications/Public Relations Records, New York Philharmonic Shelby White & Leon Levy Digital Archives.
https://archives.nyphil.org/index.php/artifact/8e437646-e311-4f48-b419-7512ebfa9633-0.1