Found In:
Communications/Public Relations > Press Clippings
1955 Stadium Concerts Scrapbook, Mar 8, 1954 - Sep 4, 1955
ID:

555-063-02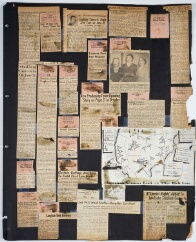 View Folder
Record Group
Communications/Public Relations
Series
Folder Title
1955 Stadium Concerts Scrapbook
Dates
Mar 8, 1954 - Sep 4, 1955
Subjects
Names
Abstract
- Stadium Concert Scrapbook for 1955 38th Season, with a few clippings of plans for the 1954 season but no reviews - Conductors named for 1954 season of Stadium Concerts, including Sir Adrian Boult, Pierre Monteux, Alexander Smallens, Andre Kostelanetz plus conductors for special events - Mayor Robert Wagner and Mrs. Sara A. Lewisohn named Honorary Chairmen for the 37th season of Stadium Concerts - Soloists named for 1954 Stadium Concerts - No reviews included for 1954 season of Stadium Concerts - 14 Conductors and 48 soloists named for 1955 season of Stadium Concerts - Dimitri Mitropoulos opens 1955 season of Stadium Concerts with a Beethoven program featuring the Eroica Symphony and pianist Rudolf Serkin in the "Emperor" Concerto for a crowd of 19,000 - Mitropoulos conducts an all-Brahms program featuring young violinist Michael Rabin - Mitropoulos programs two great contemporary symphonies, the 4th of Ralph Vaughan Williams and the 10th of Dimitri Shostakovich but the concert was interrupted by heavy rain - Minnie Guggenheimer gives her usual welcoming speech at the opening of the Stadium concert season - Pierre Monteux conducts an all-Beethoven program featuring violinist Mischa Elman and the Symphony No. 7 without rehearsal, to enormous criticial acclaim - Julius Rudel conducts a routine concert version of Johann Strauss' Gypsy Baron to a small crowd - Pianist Vera Franceschi "saved" the concert conducted by Andre Kostelanetz with her performance of the Mendelssohn G-Minor Piano Concerto - Pianist Philippa Schuyler praised for her performance of Saint-Saens' G-Minor Concerto with Thomas Scherman conducting, followed by four encores - African-American Soprano Camilla Williams highly acclaimed for her performance in La Traviata at Lewisohn Stadium, conducted by Thomas Scherman, also starring tenor Richard Tucker - Music of Sigmund Romberg featured at Stadium Concerts conducted by Franz Allers - Isaac Stern plays the Mendelssohn Violin Concerto with Thomas Scherman replacing Efrem Kurtz as conductor - Pianists Boris Goldovsky, Genia Nebenoff and Pierre Luboshutz joined in performances of Mozart's Concertos for One (K 453), Two and Three Pianos - Yehudi Menuhin plays the Brahms Violin Concerto at the Stadium conducted by Efrem Kurtz - Erica Morini highly acclaimed for her performance of Wienawski's D-Minor Violin Concerto with Alexander Smallens conducting - Gershwin night features pianist Earl Wild and excerpts from Porgy and Bess sung by soprano Leontyne Price and baritone William Warfield - Poor coordination in Robert Goldsand's performance of the Rachmaninoff Piano Concerto No. 2 with Alexander Smallens on the podium - Italian night conducted by Alfredo Antonini featured tenor Jan Peerce, soprano Eileen Farrell and mezzo Laurel Hurley - Death of New York Times Music Critic Olin Downes, August 22, 1955
Project Funder
Preferred Citation
1955 Stadium Concerts Scrapbook, 8 Mar 1954 - 4 Sep 1955, Folder 555-063-02, Communications/Public Relations Records, New York Philharmonic Leon Levy Digital Archives.
https://archives.nyphil.org/index.php/artifact/9347eb92-af24-4b5a-82b6-71a8eecf97b3-0.1