Found In:
Programs >
1918-19 Season >
Subscription Season
1919 Apr 23 / Subscription Season / Stransky
ID:

14337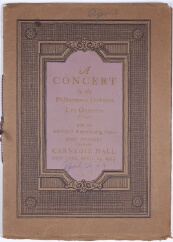 View Program
Notes
Concert program verified through reviews in Music Trade Review articles on April 26, 1919 and May 3, 1919.

The first movement of the Mendelssohn Concerto was played by an Ampico reproducing piano, using a recorded interpretation of Ornstein's playing, while the second and third movements were played by Ornstein live.

Ornstein played the Chopin Nocturne first on the piano, and then the composition was repeated by the Ampico using a record of Ornstein's interpretation.
Project Funder:
Collection Guarantor: