Found In:
Operations/Orchestra Services
CBS Broadcast: Zirato Correspondence 1930-1941, May 21, 1929 - Oct 27, 1941
ID:

027-01-24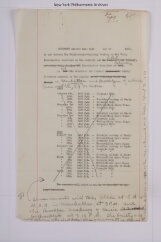 View Folder
Record Group
Operations/Orchestra Services
Series
Sub-Series
Size
Folder Title
CBS Broadcast: Zirato Correspondence 1930-1941
Dates
May 21, 1929 - Oct 27, 1941
Subjects
Names
Abstract
Correspondence of Bruno Zirato regarding CBS (Columbia Broadcasting Symphony) Radio Broadcasts and other matters; Drafts of contracts between the Philharmonic-Symphony Society and CBS regarding broadcasting of Sunday Afternoon Concerts at Carnegie Hall, Metropolitan Opear House and Brooklyn Academy of Music 1929, 1930 and 1931; Broadcasts of Children's Concerts on Saturday Mornings; LS-Ralph Colin, regarding legal issues requiring changes in contracts between CBS and the Philharmonic; LS-Lawrence Lowman, Vice President of CBS; Extra broadcast dates in May 1939; Road survey by Luther Reid and George Crandall on radio broadcasts November 1938 showing Sunday afternoon Philharmonic broadcasts were much more popular than Saturday night NBC Symphony broadcasts; LS-Davidson Taylor and other officials at CBS re radio broadcasts; Delay in broadcast due to speech of President Roosevelt on opening of The World's Fair, 30 April 1939; Concerts at the Worls's Fair, 1939; Article by David Sarnoff, "Probable Influences of Television on Society", Journal of Applied Physics. July 1939; Very rosy picture painted by David Sarnoff in his article about television and its effects on society; Correspondence on broadcast fee demanded by Jascha Heifetz; Publication of 1940 book on the Philharmonic with drawings of Maestro John Barbirolli members of the orchestra; Question of broadcasting tour concerts on CBS; Broadcasting of Stadium Concerts; Revised broadcasting contract between CBS and the Philharmonic, March 1940; LS-Douglas Coulter re length of Philharmonic broadcasts; Service by CBS of public address systems in Carnegie Hall; LS-James H. Fassett, Assistant Director, CBS Music Department; Insertion in radio broadcasts: "broadcast over the coast-to-coast network of the Columbia Broadcasting System", Letter from Moshe Menuhin, father of violinist 1``Yehudi Menuhin, about young Argentinian conductor Juan Jose Castro; Terms of renewal of radio broadcasting contract with CBS, October 1941; Problems associated with broadcasting on CBS Sunday concerts conducted by Toscanini in centennial season.
Project Funder
Preferred Citation
CBS Broadcast: Zirato Correspondence 1930-1941, 21 May 1929 - 27 Oct 1941, Folder 027-01-24, Operations/Orchestra Services Records, New York Philharmonic Leon Levy Digital Archives.
https://archives.nyphil.org/index.php/artifact/95378797-912a-4bf9-af48-efed064c8b3a-0.1