Found In:
Communications/Public Relations > Press Clippings
1954-55 Scrapbook (Part 3 of 3), May 1, 1954 - Jul 17, 1955
ID:

555-065-03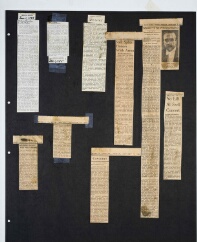 View Folder
Record Group
Communications/Public Relations
Series
Folder Title
1954-55 Scrapbook (Part 3 of 3)
Dates
May 1, 1954 - Jul 17, 1955
Subjects
Names
Abstract
- Review of new deluxe set of recordings by Bruno Walter and the Philharmonic of Brahms' orchestral music - Pianist Claudio Arrau presented a highly praised poetic performance of the Chopin E-Minor Concerto - Mixed reviews of Guido Cantelli's performance of the Beethoven "Pastoral" Symphony - Enthusiastic reception to an all- Gershwin program on Christmas night conducted by Andre Kostelanetz featuring pianist Eugene List - Poor review of Guido Cantelli's opening program of the season featuring Beethoven's "Pastoral" Symphony and Mussorgsky/Ravel Pictures at and Exhibition as well as arrangements of 18th century pieces by little-known Italian composers - Cantelli conducts the early Mozart Symphony in A, K 201, and Tchaikovsky's Fourth Symphony - Recording released of Mitropoulos and the Philharmonic playing Wallingford Riegger's Symphony No. 3 and Peter Mennin's Symphony No. 3 - NYP and world premiere of Ramiro Cortés' Sinfonia Sacra; Cortés won the tenth annual Gershwin Memorial Award, and part of his prize was it being performed by the NYP - Richard Rodgers conducts NYP for a Pension Fund Benefit - NYP Premiere of Domenico Cimarosa's Il Fanatico per gli Antichi Romani - Dame Myra Hess plays the Brahms D-Minior Concerto to great critical acclaim, playing from the score -NYP Premiere of Morton Gould's Show Piece for Orchestra, commissioned by Columbia Records - Rudolf Serkin plays an "unforgettable" performance of Brahms Piano Concerto No. 2 - Local premiere of Peter Mennin's restless and exciting Symphony No. 6 - Walter Gieseking makes his first performance since 1939 - Walter Piston's Toccata conducted successfully by Guido Cantelli, his first foray into American music with the Philharmonic, followed by Copland's El Salon Mexico - Mitropoulos conducts the first New York performance of Rolf Liebermann's frequently atonal Concerto for Jazz Band and Symphony Orchestra, featuring the Sauter-Finegan Band - Westminster Choir gives its 100th performance with the New York Philharmonic in the Premiere of Jan Meyerowitz' The Glory Around His Head and Beethoven's Ninth Symphony - Mitropoulos conducts Mahler's Sixth Symphony, which he premiered in 1947 - Praise for Jan Meyerowitz' cantata The Glory Around His Head, expecially the singing of the Westminster Choir - Men of NBC Symphony attempt to keep orchestra alive after retirement of Arturo Tosanini - Philharmonic deficit, September 1954 - Concerts by Amsterdam Concertgebouw Orhestra under Eduard van Beinum and Rafael Kubelik, October 1954 - Numerous articles about the Amsterdam Concertgebouw Orchestra - Special party train arranged to take both the Philharmonic and the Concertgebouw Orchestras from Connecticut, where they both gave concerts, to New York, November 1954 - NBC Symphony reorganized as Symphony of the Air - Ralph Vaughan Williams, a guest at Cornell University, present at the Philharmonic performance of his Fourth Symphony in October 1954, and subject of article by Olin Downes in The New York Times - Rebuilding of organ in Riverside Church completed, making it the largest organ in New York City - The New York Philharmonic-Symphony plays at Riverside Church to introduce the new organ, March 30 1955 - Owners Plan to raze Carnegie Hall, which in turn the Philharnonic-Symphony is considering buying - Review by Olin Downes of Philharmonic Year in The New York Times - Article in Opera News. January 17, 1955, "My Friend Mitropoulos," by Gisella Selden-Goth, about Dimitri Mitropoulos, dating back to the period when he was studying with Feruccio Busoni, and about to make his debut with the Metropolitan Opera - Metropolitan Firsters, article by Rudolf Bing, Manager of the Metropolian Opera, in Opera News, January 17, 1955
Project Funder
Preferred Citation
1954-55 Scrapbook (Part 3 of 3), 1 May 1954 - 17 Jul 1955, Folder 555-065-03, Communications/Public Relations Records, New York Philharmonic Leon Levy Digital Archives.
https://archives.nyphil.org/index.php/artifact/954e65f9-f5ca-4412-b00c-f3f89f6ddc49-0.1