Found In:
Communications/Public Relations > Press Clippings
1954-55 Scrapbook (Part 3 of 3), May 1, 1954 - Jul 17, 1955
ID:

555-065-03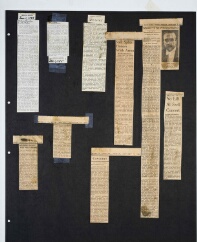 View Folder
Record Group
Communications/Public Relations
Series
Sub-Series
Size
Folder Title
1954-55 Scrapbook (Part 3 of 3)
Dates
May 1, 1954 - Jul 17, 1955
Subjects
Names
Abstract
Parts 3 of this scrapbook includes: - Review of new deluxe set of recordings by Bruno Walter and the Philharmonic of Brahms' orchestral music - Pianist Claudio Arrau presented a highly praised poetic performance of the Chopin E-Minor Concerto - Mixed reviews of Guido Cantelli's performance of the Beethoven "Pastoral" Symphony - Enthusiastic reception to an all- Gershwin program on Christmas night conducted by Andre Kostelanetz featuring pianist Eugene List - Poor review of Guido Cantelli's opening program of the season featuring Beethoven's "Pastoral" Symphony and Mussorgsky/Ravel Pictures at and Exhibition as well as arrangements of 18th century pieces by little-known Italian composers - Cantelli conducts the early Mozart Symphony in A, K 201, and Tchaikovsky's Fourth Symphony - Recording released of Mitropoulos and the Philharmonic playing Wallingford Riegger's Symphony No. 3 and Peter Mennin's Symphony No. 3 -NYP and world premiere of Ramiro Cortés' "Sinfonia Sacra"; Cortés won the tenth annual Gershwin Memorial Award, and part of his prize was it being performed by the NYP -Richard Rodgers conducts NYP for a Pension Fund Benefit -NYP premiere of Domenico Cimarosa's "Il Fanatico per gli Antichi Romani" - Strong criticism of Cantelli's over the top theatrical performance of the Verdi Requiem emphasizing operatic-style drama and excitement at the expense of restraint and any devotional feeling - Dame Myra Hess plays the Brahms D-Minior Concerto to great critical acclaim, playing from the score, refuting the general opinion that this is strictly a "man's concerto" - First local performance of Peter Mennin's brilliant and mostly loud Symphony No. 6 by the Philharmonic under Mitropoulos, well received -NYP premiere of Morton Gould's "Show Piece for Orchestra", commissioned by Columbia Records - Rudolf Serkin plays an "unforgettable" performance of Brahms Piano Concerto No. 2 - Local premiere of Peter Mennin's restless and exciting Symphony No. 6, generally very well received - Walter Gieseking makes his first performance since 1939. playing works of Mozart (Piano Concerto in C, K. 467) and Franck (Syimphonic Variations) with the Philharmonic conducted by Guido Cantelli, exhibiting keyboard mastery. musicality of tone, and fine dynamic shadings - Walter Piston's Toccata conducted successfully by Guido Cantelli, his first foray into American music with the Philharmonic, followed by Copland's El Salon Mexico - Mitropoulos conducts the first New York performance of Rolf Liebermann's frequently atonal Concerto for Jazz Band and Symphony Orchestra, featuring the Sauter-Finegan Band, to a great audience reception but scathing criticism, an "experiment gone awry" - Westminster Choir gives its 100th performance with the New York Philharmonic in the Premiere of Jan Meyerowitz' "The Glory Around His Head" and Beethoven's Ninth Symphony - Mitropoulos conducts Mahler's Sixth Symphony, which he premiered in 1947, with an intermission insertd between the second and third movements, in "a performance of "enormous power and conviction", with priceless moments of "shattering despait" and "calm affirmation" - Praise for Jan Meyerowitz' cantata "The Glory Around His Head", expecially the singing of the Westminster Choir - Measured praise, and strong criticism, for Mitropoulos' performance of Beethoven's Ninth Stymphony, with "interpretive earnestmess"and "variations in ex,pressive penetrations" - Men of NBC Symphony attempt to keep orchestra alive after retirement of Arturo Tosanini - Philharmonic deficit, September 1954 - Concerts by Amsterdam Concertgebouw Orhestra under Eduard van Beinum and Rafael Kubelik, October 1954 - Numerous articles about the Amsterdam Concertgebouw Orchestra - Special party train arranged to take both the Philharmonic and the Concertgebouw Orchestras from Connecticut, where they both gave concerts, to New York, November 1954 - NBC Symphony reorganized as Symphony of the Air - Ralph Vaughan Williams, a guest at Cornell University, present at the Philharmonic performance of his Fourth Symphony in October 1954, and subject of article by Olin Downes in The New York Times - Rebuilding of organ in Riverside Church completed, making it the largest organ in New York City - The New York Philharmonic-Symphony plays at Riverside Church to introduce the new organ, March 30 1955 - Owners Plan to raze Carnegie Hall, which in turn the Philharnonic-Symphony is considering buying - Review by Olin Downes of Philharmonic Year in The New York Times - Article in Opera News. January 17, 1955, "My Friend Mitropoulos", by Gisella Selden-Goth, about Dimitri Mitropoulos, dating back to the period when he was studying with Feruccio Busoni, and about to make his debut with the Metropolitan Opera - Metropolitan Firsters, article by Rudolf Bing, Manager of the Metropolian Opera, in Opera News, January 17, 1955
Project Funder
Preferred Citation
1954-55 Scrapbook (Part 3 of 3), 1 May 1954 - 17 Jul 1955, Folder 555-065-03, Communications/Public Relations Records, New York Philharmonic Leon Levy Digital Archives.
https://archives.nyphil.org/index.php/artifact/954e65f9-f5ca-4412-b00c-f3f89f6ddc49-0.1