Found In:
Communications/Public Relations > Press Clippings
1964-65 Scrapbook, Volume I (Part 1 of 2), Sep 1, 1964 - Aug 31, 1965
ID:

555-096-01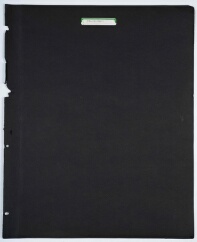 View Folder
Record Group
Communications/Public Relations
Series
Sub-Series
Size
Folder Title
1964-65 Scrapbook, Volume I (Part 1 of 2)
Dates
Sep 1, 1964 - Aug 31, 1965
Subjects
Names
Abstract
- Concert announcements and reviews, 1964-65 season - Conductors include Cleve, Kostelanetz, Krips, Maazel, Ozawa, Shapira, Schippers, Steinberg - Soloists include Simon Abbey, Van Cliburn, Regine Crespin, Dietrick Dieskau-Fischer, Rudolf Firkusny, Leon Fleischer, Maureen Forrester, Zino Francescatti, Ralph Kirkpatrick, Nathan Milstein, Itzhak Perlman, Walter Tramlper, André Watts, among others - Philharmonic hires new first cellist Lorne Munroe, who makes his solo debut performing Dvorak's Cello Concerto - Lorin Hollander peforms Piano Concerto No. 2 by Prokofiev, conducted by Josef Krips - Astrid Varnay returns to New York to perform title role in concert version of Strauss "Elektra" - U.S. premiere of Bartok Scherzo for Piano and Orchestra - Thomas Schippers conducts from the piano Carl Philipp Emanuel Bach's Concerto for Two Pianos in F Major alongside pianist Barbara Blegen - Schippers conducts Rossini Stabat Mater featuring soloists Martina Arroyo, Beverly Wolff, Tito del Bianco, Justino Diaz, and the Camerata Singers, directed by Abraham Kaplan - Andre Kostelanetz plays an all-Russian program - New York premiere of Alan Hovhaness Floating World "Ukiyo", Op. 209 - Lorin Maazel returns to conduct the Philharmonic after two seasons - German violinist Edith Peinemann replaces Arthur Grumiaux in a performance with less than a week's notice - Steinberg conducts Bach's Mass in B Minor, featuring soloists Lois Marshall, Shirley Verrett, Charles Bressler, and Kenneth Smith - Steinberg makes his debut as Metropolitan Opera conductor with "Aida" by Verdi - Thomas Schippers maries heiress nonie Phipps - Lincoln Center and State Theatre leadership disputes, Whitehead resigns - Record releases and reviews - Radio and television broadcast advertisements and reviews
Project Funder
Preferred Citation
1964-65 Scrapbook, Volume I (Part 1 of 2), 1 Sep 1964 - 31 Aug 1965, Folder 555-096-01, Communications/Public Relations Records, New York Philharmonic Leon Levy Digital Archives.
https://archives.nyphil.org/index.php/artifact/99e5baa8-767e-41cd-9988-cf16f50d4a10-0.1