Found In:
Communications/Public Relations > Press Clippings
1932-33 Scrapbook (Part 1 of 3), Sep 1, 1932 - Nov 7, 1932
ID:

555-020-01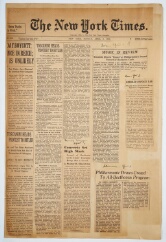 View Folder
Record Group
Communications/Public Relations
Series
Folder Title
1932-33 Scrapbook (Part 1 of 3)
Dates
Sep 1, 1932 - Nov 7, 1932
Subjects
Names
Abstract
- Profile of Saul Goodman - Ernest Schelling returns with the Philharmonic after a three year absence enforced by an infected thumb. Resumes leadership of the Children's Concert Series. - Toscanini recovers from an injury to his right arm to open the Philharmonic Symphony Society season at Carnegie Hall - Toscanini conducts American premiere of Alexandre Tansman's "Four Polish Dances" - Toscanini directs Vivaldi-Bach Concerto in A-minor for Four Pianos featuring Madeleine Marshall, Maria Carreras, Frank Sheridan, and Zoltan Kurthy - New York Philharmonic announces that it will discontinue its annual concert series in Baltimore following the current season - Maintaining Symphonic Concerts becomes difficult due to the Great Depression - All-Wagner program is presented for a concert to benefit the Philharmonic's Pension Fund - Premiere of Bernard Wagenaar's Symphony No. 2 - Toscanini leads protest against Hitler - German Radio Boycotts Toscanini Recordings and all musicians who pleaded for Jews
Project Funder
Preferred Citation
1932-33 Scrapbook (Part 1 of 3), 1 Sep 1932 - 7 Nov 1932, Folder 555-020-01, Communications/Public Relations Records, New York Philharmonic Shelby White & Leon Levy Digital Archives.
https://archives.nyphil.org/index.php/artifact/99f10246-6a6f-4f0f-a9d0-385f2fcc414a-0.1