Found In:
Communications/Public Relations > Press Clippings
1955-56 Scrapbook (Part 2 of 2), May 1, 1955 - Apr 30, 1956
ID:

555-067-02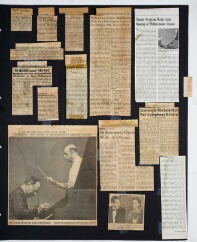 View Folder
Record Group
Communications/Public Relations
Series
Folder Title
1955-56 Scrapbook (Part 2 of 2)
Dates
May 1, 1955 - Apr 30, 1956
Subjects
Names
Abstract
- Opening night concert for 1955-56 is all-Mozart featuring Rudolf Serkin playing three Mozart piano concertos, C Major K. 503, D Major K. 451 and A Major K. 488, opening the Mozart bicentennial celebration - Revival of Mozart's one movement Sinfonia Concertante in A Major dating from 1773, for violin, viola, cello and orchestra, discovered in the Salzburg Mozarteum by principal violist William Lincer - Death of New York Times music critic Olin Downes - Funeral music from Wagner's Gotterdammerung played in tribute to Olin Downes - Symphony of the Air, former NBC Symphony, gives six concerts under the leadership of Leonard Bernstein - Robert Casadesus plays his own Piano Concerto in E-Minor with the Philharmonic under Mitropoulos, leading critics to conclude he is a better pianist than a composer - Good reviews for William Schuman's Judith, Choreographic Poem - 80 Year-old conductor Pierre Monteux led the Philharmonic for the first time in many years - Praise for Leon Fleisher in the Beethoven Piano Concerto No. 2 with Szell and the Philharmonic - David Oistrakh brilliant in a Concerto Marathon with Mitropoulos, featuring works by Mozart, Brahms and Tchaikovsky, in a benefit for the Pension Fund of the Philharmonic - High acclaim for veteran violinist Erica Morini and her performance of the Tchaikovsky concerto - Ivry Gitlis, Isaeli violinist, makes debut playing the Sibelius Violin Concerto - Soviet violinist David Oistrkh makes impressive Philharmonic debut playing three violin concertos, Mozart A Major, Brahms and Tchaikovsky, in Pension Fund Benefit Concert - David Oistrakh gives a spectacular performance of the Violin Concerto No. 1 in A-minor by Shostakovich in its American Premiere, with Mitropoulos and the Philharmonic - Mishel Piastro, former concertmaster of the Philharmonic, returns as soloist in the Tchaikovsky Concerto - Mexican composer Carlos Chavez returns to conduct his Symphony No. 3, commisioned by Clare Boothe Luce - Mitropoulos conducts the World Premiere of Samuel Barber's Medea's Meditation and Dance of Vengeance - The Philharmonic performs Ernest Bloch's Schelomo with Laszlo Varga in honor of the composer's 75th birthday - Dame Myra Hess and Bruno Walter play Mozart with the Philharmonic to commemorate the bicentennial of his birth, earning raving reviews - Bruno Walter conducts Mozart's Requiem and excerpts from the C Minor Mass with Irmgard Seefried, Jennie Tourel, Leopold Simoneau and Wiliam Warfield as soloists, and the Westminter Choir - Wilhelm Backhaus returns after almost 30 years to perform Beethoven's Piano Concerto No. 4 under Guido Cantelli - New York Premiere of Paul Creston's Dance Overture, under Guido Cantelli - Leon Kirchner soloist in the first performance of his Piano Concerto - American Premiere of Prokofiev's Cello Concerto No. 2, a reworking of the Concerto No. 1, with Mstislav Rostropovich as soloist and Dimitri Mitropoulos conducting, to general critical acclaim of the work and the soloist, a welcome and demanding addition to the cello repetoire - Mitropoulos scores with Rachmaninoff's Symphony No. 2 in the exciting closing concerts of the season - Interview with John Corigliano, "A Concertmaster Explains His Role," by Jay S. Harrison, New York Herald Tribune - Article, "Fewer Concerts, More Rehearsals," by Paul Henry Lang, New York Herald Tribune, May 1957 - Arthur Judson, 75, resigns as manager, executive secretary and director of the Philharmonic-Symphony Society in September 1956 after serving the orchestra and the society for 34 years since 1922, almost one-third of the history of the orchestra, succeeded by Bruno Zirato as Managing Director
Project Funder
Preferred Citation
1955-56 Scrapbook (Part 2 of 2), 1 May 1955 - 30 Apr 1956, Folder 555-067-02, Communications/Public Relations Records, New York Philharmonic Leon Levy Digital Archives.
https://archives.nyphil.org/index.php/artifact/9f503d65-04b1-4bcc-8c14-aa8d60d957d2-0.1