Found In:
Gifts > Kostelanetz Gift > Kostelanetz, Andre
Kostelanetz Correspondence, Sep 25, 1961 - Mar 8, 1979
ID:

550-02-46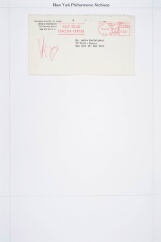 View Folder
Folder Title
Kostelanetz Correspondence
Dates
Sep 25, 1961 - Mar 8, 1979
Subjects
Names
Abstract
ALS- William Schuman; Frank Milburn; David Nadien; Jack Gottlieb; Pierre Boulez; Bruno Zirato; Lou Robbins; Carlos Moseley; Nick Webster. Topics include: Get well cards, thank you notes, Philharmonic programming; Copy of letter from Edward Jablonski to critic Harold Schonberg denouncing his critique of Gershwin's Catfish Row suite.
Project Funder
Preferred Citation
Kostelanetz Correspondence, 25 Sep 1961 - 8 Mar 1979, Folder 550-02-46, Gifts Records, New York Philharmonic Leon Levy Digital Archives.
https://archives.nyphil.org/index.php/artifact/a38dad24-0fea-4d83-9b93-663429954b0a-0.1