Found In:
Communications/Public Relations > Press Clippings
1953-54 Scrapbook (Part 1 of 3), Sep 1, 1953 - May 31, 1954
ID:

555-064-01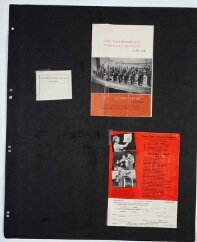 View Folder
Record Group
Communications/Public Relations
Series
Folder Title
1953-54 Scrapbook (Part 1 of 3)
Dates
Sep 1, 1953 - May 31, 1954
Subjects
Names
Abstract
- Press clippping for 1953-54 season - Highights planned for the 1953-54 season - Season opening concert features Berlioz' Harold in Italy with violist William Lincer and Schumann's Rhenish Symphony - 150th Aniversary of the birth of Hector Berlioz - Strong criticism by most critics of the conducting of Dimiri Mitropoulos in the opning Stamitz-Schumann-Berlioz program - Mitropoulos conducts the New York Premiere of Paul Hindemith's Symphony Die Harmonie der Welt, to critical acclaim - MItropoulos conducts a special concert dedicated to the United Nations on October 25th, featuring the new Hindemith Symphony and Morton Gould's Dance Variations for Two Pianos and Orchestra - Duopianists Arthur Whittemore and Jack Lowe play world premieres of pieces by Krenek and Gould - Yehudi Menuhin plays a Viotti violin concerto and the 2nd Rhapsody by Bartok; according to the critics, his playing in the Bartok was much better than in Viotti - Gottfried vin Einem's Capriccio conducted by Mitropoulos was highly acclaimed by he critics - High acclaim for Mitropoulos' performane of Schoenberg's early romantic tone poem Pelleas and Melisande, not played by the Philharmonic since 1915, which was well received despite its inordinate length and cloying romanticism, related according to some critics to Wgner's Tristan and Isolde - Robert Casadesus' performance of Saint-Saens Piano Concerto No 4 was very well received - One of the highights of the season, Beethoven's profound and moving Missa Solemnis was performed to high acclaim by the Philharmonic, the Westminster Choir and four soloists led by soprano Eleanor Steber under the direction of Dimitri Mitropoulos - High praise from pianist John Simms, less so for the new Bezanson Piano concerto. commissioned by Mitropoulos - John Corigliano played the Vieuxtemps D-Minor Violin Concerto to a "ringing ovation" - Daniel Wayenberg makes his American debut playing Rachmaninoff's Second Piano Concerto - Leonard Rose plays Bloch's Schelomo - American Premiere of Boris Blacher's Ornaments, conducted by Mitropoulos - Nicole Henriot plays the Ravel Piano Concerto with Mitropoulos and the Philharmonic - Mitropoulos presented with the decoration Commander of the Order of Phoenix by the King of Greece on November 29, 1953 at Carnegie Hall - Eugene Istomin celebrates the 10th anniversary of his Philarmonic debut with performances of the Brahms Piano Concerto No. 2 with George Szell, not to the liking of music critic Olin Downes - Criticism of the conducting style of George Szell by Virgil Thomson in the Herald Tribune - Mixed reviews for Ernest Bloch's new Sinfonia Breve conducted by George Szell - George Szell and Rudolf Firkusny excel in Beethoven's Piano Concerto No. 4 - Great praise for the Brahms program conducted by Bruno Walter featuring vilinist Erica Morini, "one of the finest and most inspiring concerts" of the season, with "nobility of thought and feeling" and "miraculous interpretation" on the part of Ms. Morini - Praise for Buno Walter's performance of Bruckner's uncompleted Ninth Symphony - Great acclaim for the performance of Brahms' D-Minor Piano Concerto by Leon Fleisher with the Philhrmonic conducted by George Szell - Isaac Stern returns from world tour to play the Beethoven Violin Concerto with the Philharmonic under George Szell in a memorable performance - Acclaim for an all-Beethoven program under George Szell - Dame Myra Hess plays Mozart's two rarely performed Piano Conertos in E-flat with the Philarmonic under Bruno Walter - Beethoven's Eroica Symphony gets "the grand treatment" by Bruno Walter and the Philharmonic, along with the under regarded Triple Concerto - Highly laudatory review by Virgil Thomson of Bruno Walter' performances of Haydn's Symphony No. 88 and Mahler's Symphony No. 1 - Rudolf Serkin gives remarkable performances of three works with the Phiharmonic under Mitropoulos, Mozart's G-Major Conerto K. 453, Strauss' early and rarely performed Burleskie and Beethovens Piano Concerto No. 4 - Byron Janis impressive in Rachmaninoff's Piano Concerto N. 3 - Mitropoulos conducts rousing Strauss Festival 50th anniversary performance of Richard Strauss' Sinfonia Domestica and first New York performances of excerpts from three Strauss operas: Arabella, Intermezzo and die Frau Ohne Schatten, none of which have been staged in America - Discussion in the press of the qualities, feateures, virtues and shortcomings of the works of Richard Strauss - Mitropoulos conducts the American Premiere of Manuel de Falla's late work Homenajes (Homages) - Cantelli's "inspired" and "memorable" Brahms First Symphony generates enthusiastic response - "Magnificent" Beethoven Emperor Concerto with Serkin and Cantelli - Cantelli's performance of Debussy's La Mer called "inadequate" by Olin Downes in the New York Times and "too boisterous" bu Harriett Johnson in the New York Post - Performances by Jascha Heifetz of the Bach A Minor Concerto and the Mendelssohn Concerto labeled too fast and "rather a scramble" - Numerous critique of conducting style of Guido Cantelli, whose tendency is to be overly planned and episodic in his musical interpretations according to some critics - Taste and refinement in the perfromance of the Tschaikovky Violin Concerto by Zino Francescatti and Dimtri Mitropoulos - "Magnificent interpretation" by Mitropoulos of the Prokofieff Symphony No. 5 - Tossy Spivakovsky soloist in Menotti's Violin Concerto under Mitropoulos - Leonid Hambro is soloist in the first Philharmonic performance of Rachmaninoff's Piano Concerto No 4 and Everett Helm's Piano Concerto No 1 - Michael Rabin plays the premiere of Richard Mohaupt's Violin Concerto, which was well received - Rachmaninoff's Symphony No 2 conducted by Mitropoulos serves as the rousing, dramatic and brilliant closerto the 1953-54 season - Plans disclosed for 1954-55 season - Rave notices in newspapers articles for the New York Philharmonic on its tour by train of cities in the Southern United States under Dimitri Mitropoulos in late March and April 1954 - Plans for tour of Western States in 1955 - Special conert at Cornng Glass Center in Corning, New York, April 28, 1954 - Special concert to mark the ceneniial of Steinway and Sons featuring 30 pianist, the First Piano Quartet and the Philharmonic, October 19, 1953, including Morton Gould's arrangement of Sousa's Stars and Stripes Forever for 10 pianists and orchestra - Numerous articles about the history of Steinway and Sons over 100 year - Great acclaim for Artur Rubinstein's performance of three concerto in a Pension Fund Benefit concert March 22, 1954 - Series of Pop Concerts under Andre Koselanetz'; first such concert in March 13, 1954 was a great success
Project Funder
Preferred Citation
1953-54 Scrapbook (Part 1 of 3), 1 Sep 1953 - 31 May 1954, Folder 555-064-01, Communications/Public Relations Records, New York Philharmonic Leon Levy Digital Archives.
https://archives.nyphil.org/index.php/artifact/a68c0dbd-ea8e-448d-bf39-0a874365d8bf-0.1