Found In:
Programs >
1955-56 Season >
Stadium Concert
1956 Jul 14 / Stadium Concert / Bernstein
ID:

11197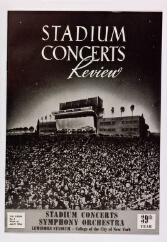 View Program
Notes
JAZZ JAMBOREE

New York Times July 16, 1956:
"An evening of jazz was tried at Lewisohn Stadium Saturday night for the first time in the thirty-one year history of the Stadium Concerts. With Louis Armstrong and his All-Stars and the Dave Brubeck Quartet as the attractions, the program drew a sellout crowd of 21,000.
As an added feature, Leonard Bernstein conducted the Stadium Symphony Orchestra and Mr. Armstrong's group in a performance of 'St. Louis Blues.' This was filmed for use in a motion picture about Mr. Armstrong that is being produced by Edward R. Murrow. W.C. Handy, who wrote the famous blues, was present for this special presentation of the tune."

The set list for the Louis Armstrong All Stars was determined by the archivist at the Louis Armstrong Archives, Ricky Riccardi. The Dave Brubeck Quartet's set list is still to be determined.

The Dave Brubeck Quartet played a selection from the following list: Frenesi, M'amselle, Crazy Chris, A Foggy Day, Me and My Shadow, Somebody Loves Me, At a Perfume Counter, Stardust, This Can't Be Love, Just One of Those Things, Lulu's Back in Town, All the Things You Are, Alice in Wonderland, Look for the Silver Lining, Over the Rainbow, Gone With the Wind, When You're Smiling, Here Lies Love, Jeepers Creepers, Annabelle, You Go to My Head, Give a Little Whistle, Lady Be Good, Tea for Two, I'll Never Smile Again, For All We Know, Laura, Lullaby in Rhythm, Perdido, These Foolish Things, The Way You Look Tonight, Out of Nowhere, Take the "A" Train, The Song is You, Don't Worry About Me, I Want to Be Happy, On the Alamo, Brother Can You Spare a Dime, Fare Thee Well, A Fine Romance, Why Do I Love You.
Project Funder:
Collection Guarantor: