Found In:
Programs >
2007-08 Season >
Hear & Now
2008 Mar 13, 15 / Hear & Now / Gilbert
ID:

10059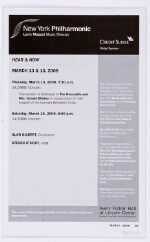 View Program
Orchestras
Musicians from the New York Philharmonic
Notes
Listed on program as follows:
"MARC NEIKRUG - Hear & Now presentation: Quintessence: Symphony No. 2
Steven Stucky will host an onstage pre-concert lecture, featuring musical demonstrations, one hour prior to the performance. Selections from Marc Neikrug's Piano Quintet will be announced from the stage.
[Concert program, #9705]"

Pre-concert lecture and presentation are grouped here, in this Program entry, in keeping with the formatting of the program.
Project Funder:
Collection Guarantor: