Found In:
Communications/Public Relations > Press Clippings
1964-65 Scrapbook, Volume I (Part 2 of 2), Sep 1, 1964 - Aug 31, 1965
ID:

555-096-02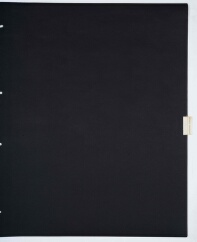 View Folder
Record Group
Communications/Public Relations
Series
Contents List
p. 1 - Leonard Bernstein
p. 21 - Personnel and Labor Disputes
p. 38 - Conductors and Performers
Show All
p. 1 - Leonard Bernstein
p. 21 - Personnel and Labor Disputes
p. 38 - Conductors and Performers
p. 64 - Debuts and Opening Night
p. 76 - Aid for the Arts
p. 79 - News and Season Highlights
p. 99 - Young People's Concert
Show First 3
Folder Title
1964-65 Scrapbook, Volume I (Part 2 of 2)
Dates
Sep 1, 1964 - Aug 31, 1965
Subjects
Names
Abstract
- Leonard Bernstein holds a jazz concert at his swimming pool with Dizzy Gillespie and other jazz stars to aid Norwalk's NAACP Legal Defense and Educational Fund - CBS is the sole backer of the musical The Skin of Our Teeth, music to be composed by Leonard Bernstein (later abandoned) - Bernstein attends a party in support of Robert F. Kennedy - Bernstein receives the Order of Merit from Chilean Ambassador Sergio Gutierrez-Olivos for his contribution to Chilean-U.S. cultural relations - Published fan letters from Bernstein's Young People's Concerts - Bernstein to conduct production of Verdi's Falstaff for the Vienna State Opera in March 1966 - The America-Israel Cultural Foundation celebrates its 25th anniversary and holds a tribute to Igor Stravinsky in the form of a performance of his "Histoire du Soldat" - Article by mezzo-soprano Betty Allen reflecting on her musical collaborations with Bernstein, Stravinsky, and Virgil Thomson - Bernstein will be guest conductor-pianist at the Festival Casals at the University of Puerto Rico in San Juan - Denmark awards Bernstein a Sonning Prize of 50,000 kroner (\$7,250). Bernstein will come to Copenhagen in May to conduct the Royal Danish Symphony Orchestra performing Carl Nielson's Fifth Symphony - Bernstein interrupts his sabbatical to conduct the world premiere of Jerome Robbin's new choreography of Stravinsky's Les Noces on March 30 - Philharmonic recording of Bernstein's Symphony No. 3 ("Kaddish") Grammy-nominated for best composition by a contemporary composer and won Grammy for best classical album of the year - Hans Werner Henze's opera "Elegy for Young Lovers" to be given American premiere at Juilliard under direction of Christopher West - Jascha Heifetz gives a chamber recital at Carnegie Hall with Gregor Piatigorsky and Leonard Pennario - Strike of Metropolitan Opera musicians imminent in labor dispute over the Met's proposed five-year contract - Profile of pianist Lorin Hollander - Acoustic changes made to Philharmonic Hall (by German acoustician Heinrich Keilholz) revealed in performance by New York Chamber Orchestra conducted by Brian Priestman, performing Bach's Brandenburg concertos - Sunday concerts will shift to Monday in the 1965-66 Season - Dispute between City Center and Lincoln Center - Profile of pianists Lorin Hollander, Geza Anda, Ralpha Votapek, and Leon Fleischer - Collaboration between Leon Fleischer and Leon Kirchner on Kirchner's commissioned Piano Concert No. 2 - Profile of composer John Cage - Americans Lawrence L. Smith and James DePreist are among winners of the 1964 Dimitri Mitropoulos International Music Competition - Milton Mollen is named Coordinator of Housing and Development of New York City - Comprehensive study on public support for performance arts in the United States - Charles Ives wins a Pulitzer Prize for his Symphony No. 3 - Profile of Felix Mendelssohn - Reviews of 1965 Stadium Concerts - Danish Princess Benedikte visits New York - Interview with Virgil Thomson published in HiFi/Stero Review May 1965 - Profile of conductor Otto Klemperer - "Bernstein's Theatre Songs" Off-Broadway Show starring Micki Grant, Don Francks, and Trude Adams; Bernstein attends with Jacqueline Kennedy
Project Funder
Preferred Citation
1964-65 Scrapbook, Volume I (Part 2 of 2), 1 Sep 1964 - 31 Aug 1965, Folder 555-096-02, Communications/Public Relations Records, New York Philharmonic Shelby White & Leon Levy Digital Archives.
https://archives.nyphil.org/index.php/artifact/adadb27a-eb99-4260-8205-262a575698b3-0.1