Found In:
Communications/Public Relations > Press Clippings
1950 Stadium Scrapbook, Mar 23, 1950 - Mar 16, 1951
ID:

555-058-01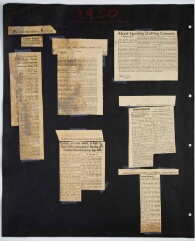 View Folder
Record Group
Communications/Public Relations
Series
Folder Title
Dates
Mar 23, 1950 - Mar 16, 1951
Subjects
Names
Abstract
- Stadium Concerts televised for the first time - Albert Spalding making final public appearance as solo violinist in the Beethoven Violin Concerto - New backdrop installed for Stadium Concerts - Encore by Albert Spalding of the first movement of his Sonata for Violin Solo - Successful Debut of 14-year-old soprano Anna Maria Alberghetti - Mischa Elman plays Bruch and Tchaikovsky Violin Concertos - Annual Gershwin night with Oscar Levant - First television broadcast of a stadium concert featuring violinist Nathan Milstein - Debut of conductor Eleazar de Carvalho - Problems with acoustics at Lewisohn Stadium - Kurt Weill Memorial Concert - Photography contest held during Stadium Concert, prizes include season passes, records - Strong criticism of Gershwin's Piano Concerto by composer/critic Virgil Thomson - Gershwin night at the Stadium - High praise for concert conducted by Pierre Monteau with Claudio Arrau as soloist - Rodgers and Hammerstein night at the Stadium - Shortening season of concerts at Lewisohn Stadium by one week due to shortage of fund because of reduced attendance and bad weather which forced cancellation of five concerts - Appeal for funds for Stadium Concerts due to deficit of \$100,000. - Sam A. Lewisohn dies at age 65.
Project Funder
Preferred Citation
1950 Stadium Scrapbook, 23 Mar 1950 - 16 Mar 1951, Folder 555-058-01, Communications/Public Relations Records, New York Philharmonic Leon Levy Digital Archives.
https://archives.nyphil.org/index.php/artifact/ae1a86bc-55e2-434a-8d7e-dc642926d238-0.1