Found In:
Communications/Public Relations > Press Clippings
1952-53 Scrapbook (Part 1 of 2), Jul 1, 1952 - Jan 3, 1953
ID:

555-061-01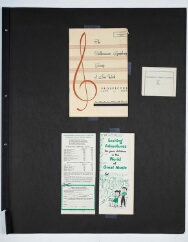 View Folder
Record Group
Communications/Public Relations
Series
Folder Title
1952-53 Scrapbook (Part 1 of 2)
Dates
Jul 1, 1952 - Jan 3, 1953
Subjects
Names
Abstract
- Carnegie Hall Tenants - Preview of 1952-53 season of The New York Phiharmonic - Dimitri Mitropoulos conducts Berg's Wozzeck at La Scala in Milan - New Members of the Philharmonic - Profiles of Dimitri Mitropoulos - Radio broadcasts of the Philharmonic to be sponsored by Willys-Overland - Death of William Gray, Philharmonic violist - New York Philharmnic 111th season opens with excerpts from Musorgky's Boris Godunoff in the Rimsky-Korakov version starring bass baritone George London singing his own English translation - Criticism of Mitropoulos' performance of Strauss' Also Sprach Zarathustra - Campaign to raise \$150,000 - Death of Harry H. Flagler, former president of the Philharmonic-Symphony Society - Meetings of various New York Phiharmonic Committees - High praise for Mitropoulos' performance of five excerpts from Berlioz' Romeo and Juliet - Virgil Thomson article Opera in the Concert Hall - Pierre Fournier plays the New York Premiere of Bohuslav Martinu' s Cello Concerto - Analysis of Darius Milhaud's Christophe Colomb, written in 1928 to a text by Paul Claudel and given its American Premiere by Dimitri Mitropoulos and the New York Philharmonic - The Barrymores of the Baton by Sigmund Spaeth - "Six Great Ladies of Music" honored at Philharmonic-Symphony Society Luncheon - Josef Szigeti plays the American Premiere of Frank Martin's Violin Concerto - Fiftieth Anniversary Season on the Minneapolis Symphony - Philadelpha Orchestra celebrates anniversary at Carnegie Hall - Friedrich Gulda makes his Philharmonic debut playing Prokofieff's Piano Concerto No. 3 and Beethoven's Piano Concerto N. 3 - Virgil Thomson column stating that the Metropolitan Opera is not yet part of New York's intellectual life but the Philharmonic under Mitropoulos is - Good reviews for concerts by New York Chamber Ensemble under Mitropoulos - Jewish Federation Celebrates 35th Year at Festival of Music - New York Premiere of Berg's Three Orchestral Pieces - William Kapell plays Mozart Piano Conerto in G, K. 453 - Great notices for Mitropoulos' Shostakovich 5th in New York and Washington, DC - Auction of Toscanini's manuscipt of his transcription of The Star Spangled Banner - Louis Krasner plays the New York Premiere of Schoenberg's Violin Concerto - Olin Downes: Musical Economics, How orchestras can meet deficits - New York Premiere of Alban Berg's Three Orchestral Pieces - Mitropoulos elected President of International Music Institute - Criticism by Olin Downes of Mitropoulos' performance of Schumann's Symphony No. 4 - Paul Hindemith conducts four of his works at concert of New Friends of Music - Philharmonic celebrates its 110th Birthday with performance of Beethoven's 5th - Lelia Gousseau plays New York Premiere of Albert Roussel's Piano Concerto - Philharmonic reengages Mitropoulos as musical director of the Phiharmonic and Andre Kostelanetz as guest conductor - Rudolf Firkusny plays Beethoven's C-Minor Concerto No. 3 with George Szell and the Philharmonic - Robert Bagar: "Why not MItropoulos for Podium at the Met?" - Erica Morini praised for her Brahms Violin Concerto with Szell and the Philharmonic - George Szell criticized for his performance of the final scenes from Strauss' Salome in which the orchestra was not balanced with the singing - High praise for Guiomar Novaes playing of the Beethoven Piano Concerto No. 4 with Szell and the Philharmonic - Mitropoulos hospitalized for physical exhaustion and cancels all performances until the last weeks of the Philharmonic season - Bruno Walter returns with a Christmas program featuring Anton Bruckner's monumental Eighth Symphony, "a memorable experience", "summits are grand and exciting", "Walter was the prophet's prophet last night" - A Holiday Tribute to Mr. Mitropoulos, by Louis Biancolli in the World-Telegram and Sun - Bruno Walter closes the year with a Strauss-Wagner program
Project Funder
Preferred Citation
1952-53 Scrapbook (Part 1 of 2), 1 Jul 1952 - 3 Jan 1953, Folder 555-061-01, Communications/Public Relations Records, New York Philharmonic Leon Levy Digital Archives.
https://archives.nyphil.org/index.php/artifact/b1cf7424-e0ec-4b50-afff-2e85fef7c097-0.1