Found In:
Programs >
1927-28 Season >
Young People's Concert
1927 Dec 31 / Young People's Concert / Damrosch
ID:

10248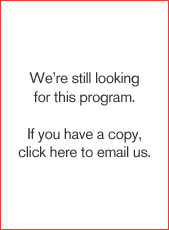 Notes
Handel: no soloist listed in program. unclear if the pastoral was followed by the "Shepherds Abiding in the Fields" recitative; review seems to indicate that it was not.
NY Times review, Jan. 1, 1928, notes that incidental solos were performed by Mrs. Williams, Mrs. King and Miss Selee (not specified).
"Here's Wishing You A Happy New Year": played and sung by Damrosch to the tune of Tchaikovsky; audience spontaneously joined in later (review).

The Symphony Society Bulletin was a newsletter produced in advance of the New York Symphony concerts. It is not known at this time if what was programmed actually happened. There is no known complete set of New York Symphony programs so all performance information is compiled from a variety of sources.
Project Funder:
Collection Guarantor: