Found In:
Communications/Public Relations > Press Clippings
1943-44 Scrapbook (Part 6 of 6), Mar 26, 1944 - Jul 31, 1944
ID:

555-045-03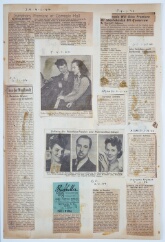 View Folder
Record Group
Communications/Public Relations
Series
Folder Title
1943-44 Scrapbook (Part 6 of 6)
Dates
Mar 26, 1944 - Jul 31, 1944
Subjects
Names
Abstract
- Bruno Walter conducts Bach's St. Matthew Passion over Easter weekend - Toscanini leads concert at Madison Square Garden for the American Red Cross, featuring combined members of the Philharmonic-Society and the NBC Symphony Orchestra - Celebrating Leonard Bernstein, "music's new triple threat" - Bruno Walter celebrates his 50th year as a conductor - Artur Rodzinski calls jazz and swing music a leading cause of juvenile delinquency and describes its fans as "pitiful cases"; Frank Sinatra responds, "Nuts" - Rodzinski conducts Philharmonic at Bushnell Memorial Hall to conclude the 1943-44 Bushnell series - Lionel Hampton is chosen "The Band of '44," tells a story of his close friend, Arturo Toscanini - Dimitri Shostakovich sells the rights to broadcast the first performance of his new Symphony No. 8 to CBS for \$10,000 - U.S. premiere of Shostakovich's Symphony No. 8 for a radio audience of millions - Joseph Schuster is a featured artist on the final program of the season of the Harlem Philharmonic Society - Bernstein concludes his tenure as an assistant conductor with the Philharmonic - CBS releases their recording of Brahms' Schicksalslied, performed by the New York Philharmonic and Westminster Choir, conducted by Bruno Walter - Guest conductors for the 1944-45 season to include Monteux, Stravinsky, Szell, and Bernstein - Nadia Reisenberg is soloist on Prokofiev's third piano concerto at the final subscription concert - Profile of the Fishberg-Glantzes and the Borodkin-Gusikoffs, the two most populous musical families in the country - Review of Bernstien's "Jeremiah" Symphony, featuring Jennie Tourel as soloist - Profiles of Dimitri Shostakovich in celebration of the Western premiere of his new symphony - Notebook Awards are distributed at the final Young People's Concert of the season - A look back at Rodzinski's first season as music director of the Philharmonic - Release of the orchestra's annual statistical report - Soloists announced for 1944-45 season - U.S. Rubber Company renews their sponsorship of the Philharmonic Society's Sunday afternoon concerts - Unfortunate end to the League of Composers project; Only half of the 17 commissioned works were performed - The Philharmonic Women's club present a playlet titled "Friday Afternoon - A Skittenish Kit" at the annual party - Leonard Bernstein to conduct the Philharmonic at Carnegie Hall for the benefit of the Red Cross of Palestine; Selma Kramer engaged as soloist - A New York Times article of upcoming events announces, "...Philharmonic Symphony phony concert, with Josef Hofmann," unclear if it was intentional or a misprint - Vladimir Horowitz plays Rachmaninoff's Third Piano Concerto with the Philharmonic as part of the first concert of the second season of the Philharmonic-Symphony broadcast series - Federal tax on admissions threatens to cut symphony revenue - Toscanini has a 36 inch baton constructed for him to use at the American Red Cross benefit concert where he will conduct the NBC and New York Philharmonic orchestras, and a chorus of 600 voices - World premiere of Morton Gould's "Symphony on Marching Tunes" is given by Vladimir Golschmann and the New York Philharmonic; The work was commissioned by the YMCA in honor of its 100th anniversary - Vladimir Golschmann conducts all-Schumann program - Fritz Reiner conducts excerpts from Shostakovich's revison of Moussorgsky's "Boris Godounoff" - Profile of Minnie Guggenheimer
Project Funder
Preferred Citation
1943-44 Scrapbook (Part 6 of 6), 26 Mar 1944 - 31 Jul 1944, Folder 555-045-03, Communications/Public Relations Records, New York Philharmonic Leon Levy Digital Archives.
https://archives.nyphil.org/index.php/artifact/b89ec14e-f001-4df9-a76b-35c322849dbd-0.1