Found In:
Communications/Public Relations > Press Clippings
1979-80 Scrapbook (Part 2 of 2), Jan 1, 1980 - Jun 30, 1980
ID:

555-143-01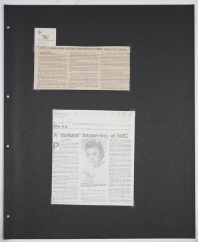 View Folder
Record Group
Communications/Public Relations
Series
Folder Title
1979-80 Scrapbook (Part 2 of 2)
Dates
Jan 1, 1980 - Jun 30, 1980
Subjects
Names
Abstract
- Toscanini Tribute Concert on NBC, Live from Studio 8H, with the New York Philharmonic conducted by Zubin Mehta with Leontyne Price and Itzhak Perlman soloists - Profile of new Principal Horn Philip Myers - Debut of Violinist Anne-Sophie Mutter at age 16 in Mendelssohn's Violin Concerto earns rave reviews - Live from Lincoln Center telecast featuring tenor Luciano Pavarotti, with surprise special guest violinist Itzhak Perlman singing the role of the jailor in Puccini's Tosca; Concert included unscheduled tribute to conductor Andre Kostelanetz, who died the previous day - Death of Andre Kostelanetz, who conducted the New York Philharmonic over 250 times between 1952 and 1980; championed American music, serious and popular, and commissioned many works by American composers - James Levine conducts Zemlinsky's rarely heard Lyric Symphony - World Premiere of Vladimir Zagortsev's Gradations - Debut of Israeli Violinist Silvia Marcovici, age 27, who played Saint-Saens Violin Concerto No. 3 - World Premiere of William Schuman's Three Colloquies for French Horn and Orchestra played by new principal first horn Philip Myers - Philharmonic debut of conductor John Nelson - Debut of Estonian conductor Neeme Jarvi in an all-Sibelius program - Glenn Dicterow appointed Concertmaster of the New York Philharmonic starting in the 1980-81 season - Debut of conductor Walter Weller - World premieres planned for 1980-81 season, including works by Rafael Kubelik and Ravi Shankar - Israeli pianist Ilana Vered debuts in Rachmaninoff's Piano Concerto No. 2 - Beverley Sills acts as hostess/commentator for Young People's Concert conducted by Zubin Mehta - Article, "Philharmonic: So What's New?" by Leighton Kerner in The Village Voice - Stereo Review interview with pianist Alicia De Larrocha - Mehta conducts vigorous Easter performances of Handel's Messiah - Criticism in The New Yorker, 4 February 1980, of comments of Zubin Mehta regarding piece by Soviet composer Vladimir Zagortsev, "does quality of music come second to the political position of the composer?" - Death of Richard Rodgers - Morton Gould replaces deceased Kostelanetz playing his own "Philharmonic Waltzes" - Alacord Trio composed of Philharmonic musicians Allan Schiller, violin, Henry Nigrin, viola, and Gerald Appleman, cello, appears in Carnegie Recital Hall - Article, "Budget Cuts vs. Value of the Arts," by Laurie Johnston, New York Times, 5 February 1980 - Orchestral scores and parts used in his concerts by Andre Kostelanetz donated to the Philharmonic Society - Strong criticism of concerts conducted by Henry Lewis in place of conductor Yuri Temirkanov, unable to travel from Soviet Union, including a cut version of Rachmaninoff's Symphony No. 2 - Cancellation of concerts to have been conducted by Bernard Haitink due to illness - Conducting debut of pianist Christoph Eschenbach - Leonard Bernstein performances of Beethoven's Fidelio with the Vienna Philharmonic and soprano Gwyneth Jones and tenor Jess Thomas criticized for excess spoken word, as if 'the audience needed to have Fidelio explained to them" - Sidney Harth appointed Acting Concertmaster - Citibank donates \$300,000 to underwrite 1980 European Tour - Contract with Zubin Mehta extended through 1985-86 season - Third Annual New York Philharmonic/WQXR Phone Festival hopes to raise \$350,000 - Jerome Lowenthal plays rarely heard Franz Liszt Malediction for piano and string orchestra and Stravinsky's Concerto for Piano and Wind Instruments - Philharmonic performs at the Abyssinian Baptist Church in Harlem under Zubin Mehta with soloists Leontyne Price, Betty Perkins, Seth McCoy, the Sanctuary Choir, and All-City Singers; The New York Amsterdam News call the concert "Another gleaming jewel in Harlem's Crown," while the Daily News had the headline "After 138 years, Philharmonic takes the A Train"; the concert received no corporate underwriting and ticket prices were \$5-25; Mehta promises to do at least one major work by a black composer every season - Article, "The Unfashionably Romantic Music of John Corigliano," New York Times, 27 April 1980; Corigliano is quoted as saying "I have created order where there was chaos, something out of nothing. It's a very special feeling." - First performance of Krzysztof Penderecki's Neo-Romantic Symphony No. 2 - Donal Henahan replaces Harold Schoenberg as Chief Music Critic of The New York Times - Pinchas Zukerman in dual role of violinist and conductor in Bach's six Brandenburg Concertos - Musical America's 1980 Musician of the Year Award to Zubin Mehta - Article, "Biggest Beethoven Week Ever," by Harold Schoenberg, New York Times 11 May 1980 - Tennstedt conducted Beethoven Symphony No. 4 and the Violin Concerto with 17-year old Mark Kaplan, winner of the 1973 Leventritt Award, replacing the indisposed Anne-Sophie Mutter - Article, "Pulling Strings," Daily News, 8 June 1980; the problems of female touring musicians in the Philharmonic with young children, focusing on Evangeline Benedetti, cello, Irene Breslaw, violin, and Nancy Donaruma, cello - Featured speakers at the ASOL Meeting in New York included Leonard Bernstein, Irving Kolodin, William Schuman, and Beverley Sills - James Chamber, principal horn, becomes personnel manager of the Philharmonic - Aaron Copland conducts his Symphonic Ode in a non-subscription concert to mark his 80th Birthday - Tennstedt and the Philharmonic played tour concerts in Elmira, Saratoga Springs and Syracuse, New York, Pine Knob in Detroit, Michigan and Poplar Creek in Chicago, and two concerts at Wolf Trap in Virginia
Project Funder
Preferred Citation
1979-80 Scrapbook (Part 2 of 2), 1 Jan 1980 - 30 Jun 1980, Folder 555-143-01, Communications/Public Relations Records, New York Philharmonic Shelby White & Leon Levy Digital Archives.
https://archives.nyphil.org/index.php/artifact/c6ed17b5-e7a0-4c60-afce-92cf703b88a1-0.1