Young People's Concerts: Children Soloists, Nov 18, 1952 - Jun 10, 1954
ID:

019-13-10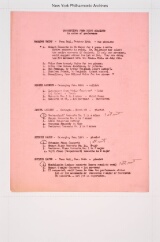 Contact Us
to access this folder.
Folder Title
Young People's Concerts: Children Soloists
Dates
Nov 18, 1952 - Jun 10, 1954
Subjects
Names
Abstract
LS-Abram Chasins. Suggestions, questionnaires, contracts, biographies and correspondence regarding Young People's Concert soloists; Programs; List of possible young soloists for YPC; Choice of soloists for YPC and rehearsal schedules; Signed consents from parents for young musicians to appear as soloists at YPC; ALS-Marcel Grandjany, harpist; Extensive correspondence between Philharmonic and young soloist and parents re appearance at YPC at either Town Hall or Carnegie Hall; LS-James Fassett
Project Funder
Preferred Citation
Young People's Concerts: Children Soloists, 18 Nov 1952 - 10 Jun 1954, Folder 019-13-10, Education Records, New York Philharmonic Leon Levy Digital Archives.
https://archives.nyphil.org/index.php/artifact/c7ef15e0-c2f0-421e-b9e6-f8583b958df8-0.1