Found In:
Executive > Moseley, Carlos
Other Orchestras: Advice, Oct 28, 1963 - Nov 20, 1964
ID:

009-12-07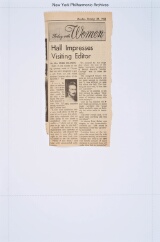 View Folder
Folder Title
Dates
Oct 28, 1963 - Nov 20, 1964
Subjects
Names
Abstract
ALS-Boris Sokoloff. ALS-David Keiser. ALS-William Severns. Humorous correspondence between Carlos Moseley and fictitious Beaver Island Percussion Ensemble; Dinner at Tavern-On-the-Green with Amsterdam Concertgebouw; Cocktail party in honor of London Symphony and Japan Philharmonic memebers; Tuning Frequency Study.
Project Funder
Collection Guarantor