Found In:
Communications/Public Relations > Press Clippings
1955-56 Scrapbook, Extra Materials, May 1, 1955 - Apr 30, 1956
ID:

555-067-03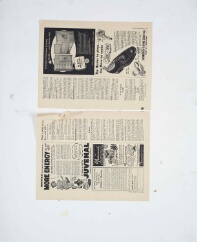 View Folder
Record Group
Communications/Public Relations
Series
Sub-Series
Size
Folder Title
1955-56 Scrapbook, Extra Materials
Dates
May 1, 1955 - Apr 30, 1956
Subjects
Names
Abstract
Extra miscellaneous materials from May 1955-April 1956 Scrapbook Parts 1-3 of this scrapbook include: - Kostelanetz incorporates Japanese works in program: Tone Poem "Sea of Spring" and "Coming from Heaven". - Campaign to keep Carnegie Hall from closing begins - Construction for Lincoln Square begins - David M. Keiser elected Philharmonic President - Richard Rodgers makes New York Philharmonic conducting debut - Philharmonic returns for 26th Radio Year - Mitropoulos named Music Director for 1956-1957 - Tong Il Han makes debut at 14. - Philharmonic celebrates Jean Sibelius's 90th birthday with "Sibelius Week" - Death of Concert Pianist, Carl Friedberg - Death of NY Times Music Critic Olin Downes - Death of Conductor Erich Kleiber - Carlos Chavez returns to conduct Philharmonic - Arthur Judson resigns as Philharmonic Manager, Bruno Zirato named Philharmonic Manager - Jews in New York Philharmonic - Program if A Symphonice Program sponosred by the Syracuse Friends of Chamber Music, November 20, 1955 - Brochure, 300 Year of Music in New York City - Town and Country 1955, Air-Borne Philharmonic by Howard Taubman - Article, Sibelius, Today and Tomorrow, by Olin Downes, Saturday Review, August 1955, on the occsion of the composers 90th birthday - Programs available to children in New York City - The Philharmonic play Leon KIrchner's Piano Concerto, article by Jay S. Harrison in the New York Herald Tribune, 24 February 1956, tyewritten copy - Thanks to Walter, article by Howard Taubman in The New York Times, celebrating performances of Mozart music at the Metropolitan Opera and New York Philharmonic conducted by Bruno Walter, in honor fo the Mozat bicentennial - Steinway News, Over a Century of Service to Music, May 1956 - Article in The New York Times about negro instrumentlists attempt to get into major ensembles - Responses to Howard Taubman's article in The New York Times criticizing the Nw York Philharmonic and conductor Dimitri Mitropoulos, 11 and 20 May 1956 - Reviews of New York Philharmonic programs in Edinburgh and in London, October 1955 - Mitropoulos conducts Puccini's Manon Lescaut a the Metropolitan Opera to enthusiastic reviews - Dimitri Mitropoulos 60th Birthday - Repeat in this file of selected concert review from previous files for 1955-!056
Project Funder
Preferred Citation
1955-56 Scrapbook, Extra Materials, 1 May 1955 - 30 Apr 1956, Folder 555-067-03, Communications/Public Relations Records, New York Philharmonic Leon Levy Digital Archives.
https://archives.nyphil.org/index.php/artifact/d15f8482-3cc5-4e37-bac1-388bf8dd5ec2-0.1