Found In:
Executive > Zirato, Bruno
Munch, Charles, May 9, 1947 - Apr 18, 1948
ID:

011-01-14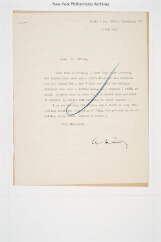 View Folder
Folder Title
Dates
May 9, 1947 - Apr 18, 1948
Subjects
Names
Abstract
ALS-Charles Munch; LS-Charles Munch. American Premiere of Honegger's "Jeanne d' Arc au Bucher; First Philharmonic performance of Piano Concerto No. 2 by Sergei Prokofiev; Request from the Jewish Music Council for the Philharmonic to play Jewish music for Festival.
Project Funder
Collection Guarantor