Found In:
Communications/Public Relations > Press Clippings
1957-58 Scrapbook (Part 1 of 3), Sep 4, 1957 - Aug 31, 1958
ID:

555-072-02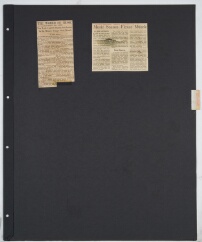 Record Group
Communications/Public Relations
Series
Folder Title
1957-58 Scrapbook (Part 1 of 3)
Dates
Sep 4, 1957 - Aug 31, 1958
Subjects
Names
Abstract
- Twenty premieres scheduled for the 116th Season, including the world premiere of Marc Blitzstein's Lear; American premieres of works by Arlen, Bondeville, Kabalevsky, Markevitch, Mennin, Rota, Shostakovich, Sicileanos, Villa-Lobos; and New York premieres of works by Diamond, Durufle, Haieff, Petrassi, Revueltas, Rorem, Schuman, Shapero - Profile on pianist Lilian Kallir, who performs Mozart Piano Concert in G Major, K. 453 with Philharmonic and Dimitri Mitropoulos - Rehearsals for start-of-season delayed due to labor negotiations - Anton Kuerti, winner of the 1957 Edgar M. Leventritt Foundation Award, performs Mendelssohn Piano Concerto No. 1 in G Minor Op. 25 with the Philharmonic, Thomas Schippers conducting - Yeduhi Menuhin breaks normal protocol by playing encores after both of his performances of Ernest Bloch's Violin Concerto on December 13 and 14, 1957 - Leonard Bernstein returns as conductor - Dimitri Mitropoulos conducts a stage performance of Richard Strauss Elektra feautring soloists Inge Borkh as Elektra - Aaron Copland appears as conductor to direct his Third Symphony - Siblings Joseph Fuchs and Lilian Fuchs appear as soloists in Mozart's Sinfonia Concertante for Violin and Viola in E-flat, K. 364 - Pianists Arthur Gold and Robert Fizdale appear as soloists in the New York premiere of Mendelssohn's Two Piano Concerto in A-flat - Profile of pianist Glenn Gould - Ernest Ansermet conducting debut with Philharmonic - Robert Shaw conducts oratorio "The Creation" by Haydn, featuring soloists Adele Addison, Louise Natale, John McCollum, and Paul Ukens - American premiere of Igor Markevitch's Icare; article including quote from a letter written by Bartok praising the work - Bernstein conducts Arthur Honegger's "Joan of Arc" featuring soloists Felicia Montealegre and Martial Singher - Third appraisal of land designated for Lincoln Square reflects a price hike
Project Funder
Preferred Citation
1957-58 Scrapbook (Part 1 of 3), 4 Sep 1957 - 31 Aug 1958, Folder 555-072-02, Communications/Public Relations Records, New York Philharmonic Shelby White & Leon Levy Digital Archives.
https://archives.nyphil.org/index.php/artifact/d5a0341f-a645-4f73-bc97-42ebe2fb734d-0.1