Found In:
Communications/Public Relations > Press Clippings
1949-50 Scrapbook, Apr 18, 1949 - May 31, 1950
ID:

555-056-01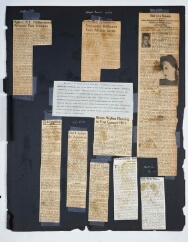 View Folder
Record Group
Communications/Public Relations
Series
Folder Title
Dates
Apr 18, 1949 - May 31, 1950
Subjects
Names
Abstract
- Articles detailing percussionists, bassoonists, clarinetists, violin/violists, trombonists, tubists in various American orchestras. - Reviews of concerts on 1949 Spring Tour under Leopold Stokowski, Bruno Walter and Leonard Bernstein - Summary by Irving Kolodin of the 1948-49 musical season highlights - Benefit concert for Palestinian Institution played at Ebbets Field under Leonard Bernstein on June 16, 1949 - Norman Della Joio's Variations, Chaconne and Finale received Music Critics' Circle Award - Gary Graffman receives Leventritt Award - Problem of support from radio broadcasts - No royalties paid to Sibelius for U.S. performances - Criticism by Herbert Weinstock in Herald Tribune of Leopold Stokowski's opening programs with the Philharmonic - General criticism of concerts conducted by Leopold Stokowski - Comments by Dmitri Shostakovich about his visit to New York and his experience at a concert of the New York Philharmonic conducted by Leopold Stokowski, published in a column by Virgil Thomson in the Herald Tribune - Recording by Stokowski and the Philharmonic of Vaughan Williams' Symphony No. 6 - Art show by members of the Philharmonic - All-Wagner Pension Fund Benefit conducted by Stokowski featuring Mariquita Moll, Eugene Conley and Virginia Paris - Stokowski offers Canzon by Giovanni Gabrieli - Harpsichordist Wanda Landowska plays music by Poulenc and Handel - William Kapell plays Beethoven Concerto No. 2 - Eugeme Istomin plays Mozart's "Jeunehomme" Piano Concerto, K 271 - Jacques Abram plays the revised version of Britten's Piano Concerto - American Premiere of Prokofiev's Symphony No. 6 by the Philharmonic under Leopold Stokowski - Isaac Stern plays the Brahms Violin Concerto - Josepf Szigeti gives masterful performance of Berg's Violin Concerto under Dimitri Mitropoulos - Dimitri Mitropoulos plays and conducts Ernst Krenek's Piano Concerto No. 3 - Vaughan Williams Symphony No. 4 conducted by Dimitri Mitropoulos - Concert perforrmance of Richard Strauss' Elektra conducted by Dimitri Mitropoulos featuring Astrid Varnay and Elena Nikolaidi - Mitropoulos appointed musical director of the Philharmonic for 1950-51 season - Oscar Levant plays Honegger's Concertino and Khachaturian's Concerto for Piano and Orchestra under Dimitri Mitropoulos - New York Philharmonic to perform at Roxy Theatre - Rudolf Serkin and Dimitri Mitropoulos present monumental performance of Reger's Piano Concerto in F Minor, Op. 114 - First New York Performance of Roger Sessions' Symphony No. 2 - Leonard Pennario plays the Piano Conerto of Sir Arthur Bliss - Bruno Walter conducts Bruckner Symphony No. 9 - Walter conducts Mahler's Symphony No. 1 - Bernstein conducts the New York Premiere of his Symphony No. 2, The Age of Anxiety, with pianist Lukas Foss - Bernstein played and conducted the Beethoven Piano Concerto No. 1 in C Major - Jascha Heifetz gives masterful performance with "sovereign command" of William Walton's Violin Concerto with Leonard Bernstein - Louis Biancolli: Bernstein Forced to Lead Two Lives - Victor de Sabata makes his conducting debut for four weeks with the Philharmonic in March 1950 - De Sabata conducts the premiere of Morton Gould's Spirituals for String Choir and Orchestra - Nathan Milstein plays the Brahms Violin Concerto under Victor De Sabata - Criticism of Artur Rubinstein's performance of Mozart's A Major Piano Concerto in a program also including Rachmaninoff's Rhapsody on a Theme of Paganini - Moura Lympany makes debut with the Phiharmnic playing Beethoven's G Major Piano Concerto - Leopold Stokowski conducts the first performance by the Philharmonic in Mahler's gigantuan Eighth Symphony with three choirs and eight vocal soloists, and an expanded orchestra with a brass choir located in the dress circle - Mixed reviews for Stokowski's Mahler Eighth with unflattering comparisons to the opening piece by Gabrieli for two four-part choruses, organ and brass instruments - Mitropoulos conducts the New York Premiere of Schoenberg's A Survivor from Warsaw for narrator, chorus and orchestra, with a repeat performance in response to the enthusiastic audience reception. Some citics praised the short drarmatic work while others reacted negatively. - Rudolf Bing appointed Manager of the Metropolitan Opera - Philharmonic plays at the Edinburgh Festival under Mitropoulos and Walter - Walter conducts Beethoven's Ninth Symphony at the Edinburgh Festival - Lauritz Melchior leaves Metropolitan Opera after dispute with Rudolf Bing - Tribute to Fritz Kreisler on his 75th Birthday - In The New York Times (January 29, 1950) Mitropoulos explains his duty to include new music in his Philharmonic programs - Profile by Richard O. Boyer of Dimitri Mitropoulos in The New Yorker on April 15, 1950
Project Funder
Preferred Citation
1949-50 Scrapbook, 18 Apr 1949 - 31 May 1950, Folder 555-056-01, Communications/Public Relations Records, New York Philharmonic Leon Levy Digital Archives.
https://archives.nyphil.org/index.php/artifact/d77bebd6-c888-4b67-a9c6-c2ca85b5ca92-0.1