Found In:
Communications/Public Relations > Press Clippings
1950-51 Scrapbook (Part 2 of 3), Nov 15, 1950 - Apr 1, 1951
ID:

555-057-02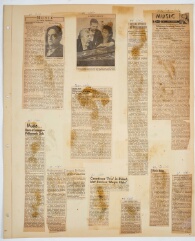 View Folder
Record Group
Communications/Public Relations
Series
Sub-Series
Size
Folder Title
1950-51 Scrapbook (Part 2 of 3)
Dates
Nov 15, 1950 - Apr 1, 1951
Subjects
Names
Abstract
- Planning for Edinburgh Festival 1951 - Mitropoulos plays a double bill of Darius Milhaud's Les Choephores and Maurice Ravel's L'Heure Espagnole - Robert, Gaby and Jean Casadesus play Bach's Concerto for Three Pianos, Mozart's Concerto for Two Pianos and Casadesus' Concerto for Two Pianos - Profile of African-American composer Howard Swanson, whose Short Symphony was played by the Philharmonic - George Szell plays New York Premiere of Alfredo Casella's Paganiniana - Szell plays uncut Bruckner Eighth Symphony - Appointment of Dimitri Mitropoulos as Musical Director of the Philharmonic extended until 1953 - John Barbirolli receives Gold Medal of the Royal Philharmonic Society - Complaints about changes in the time of New York Philharmonic broadcasts on CBS - Acclaim for performance of Beethoven "Emperor" Concerto by Rudolf Serkin with George Szell - Praise for Szell's performance of Schubert Symphony No. 9 in C Major - Praise for performance of Chopin Piano Concerto No. 2 by Guiomar Novaes and George Szell - Article on orchestra musicians who have played with their orchestra for 25 years or more - Announcement of appointment of guest conductors for 1951-52 season, George Szell, Bruno Walter and Guido Cantelli - Bruno Walter conducts a Brahms cycle over 4 weeks with the Philharmonic - Grandeur and poetry in Clifford Curzon's performance of Brahms Piano Concerto No. 1 with Bruno Walter conducting - John Corigliano and Leonard Rose play Brahms' Double Concerto - Myra Hess plays Brahms Piano Concerto No. 2 to close the Brahms Cycle to great acclaim - Kirsten Flagstad sings Beethoven and Wagner in a Pension Fund concert conducted by Bruno Walter - Bal des Chapeaux set to benefit the student ticket program of the Philharmonic - Death of Countess Alexandre Mercati, member of the board of the New York Philharmonic and patron of the arts in New York City and honored for relief work after World War I - Premiere of film "Of Men and Music" featuring many esteemed musical artists - Leonard Benstein returns after a long absence to conduct two weeks with the Philharmonic - Leonard Bernstein conducts thrilling performance of Stravinsky's Rite of Spring - Bernstein, 32, to take sabbatical from conducting to "take stock" and compose - Victor de Sabata (conductor of La Scala Orchestra) detained by immigration authorities - World premiere of Charles Ives' Symphony No. 2 conducted by Leonard Bernstein - Bernstein plays and conducts Mozart's Piano Concerto in G, K. 453 - Debut of Jorge Bolet with the Philhrmonic playing Prokofiev Piano Concerto No. 2 - Mitropoulos conducts Stravinsky's Petrouchka complete for the first time with the Philharmonic - Jascha Heifetz gives "incomparable" performance of the Sibelius Violin Concerto with Mitropoulos conducting in tribute to the composer on his 85th birthday - Philharmonic calls on Congress to drop tax on admissions - Susan Starr, age 9, plays at a Young People's concert - Return of Victor de Sabata as guest conductor - Disappointing performance of Schumann's Piano Concerto in A Minor by Claudio Arrau - All-Wagner program conducted by Victor de Sabata with Eileen Farrell as soloist - Great picture of Arturo Toscanini and Giacomo Puccini as young men in a new book on Puccini by George Marek - Death of Willem Mengelberg, conductor of the New York Philharmonic in the 1920s before the appointment of Arturo Toscanini, and accused of collaboration with the Nazis - Mitropoulos plays and conducts Malipiero's Piano Concerto No. 4 - Praise for Mitropoulos' performance of Rachmaninoff Symphony No. 2 - Analysis of Albam Berg's Wozzeck by Robert Sabin - Speech by Floyd G. Blair, President and Treasurer, at a dinner of The Philharmonic-Symphony Society of New York at the Hotel Plaza on April 2, 1951, on the progress and achievements of the Philharmonic - NYP premiere of Alban Berg's "Wozzeck" in its entirety - Barbara Stein wins first prize in 1957 Young Composer's Concert - Chairman of the Met urges Congress to be exempt from Ticket Tax; Philharmonic backs Met - British unions protest Philharmonic concerts in Edinburgh Festival, asks AFM for support
Project Funder
Preferred Citation
1950-51 Scrapbook (Part 2 of 3), 15 Nov 1950 - 1 Apr 1951, Folder 555-057-02, Communications/Public Relations Records, New York Philharmonic Leon Levy Digital Archives.
https://archives.nyphil.org/index.php/artifact/d93a82c5-410b-427d-baa2-c2eb9916ae8a-0.1