Found In:
Communications/Public Relations > Press Clippings
1947-48 Scrapbook (Part 1 of 2), Feb 7, 1947 - Jan 20, 1948
ID:

555-054-01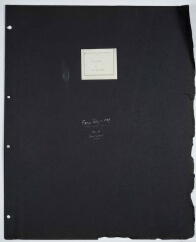 Record Group
Communications/Public Relations
Series
Folder Title
1947-48 Scrapbook (Part 1 of 2)
Dates
Feb 7, 1947 - Jan 20, 1948
Subjects
Names
Abstract
- Bruno Walter named "Musical Advisor", having declined the responsibility of Musical Director after departure of Musical Director Artur Rodzinski - Gustav Mahler's Sixth Symphony is presented in America for the first time by the Philharmonic under Dimitri Mitropoulos, generating mostly positive reviews - Rodzinksi, fired as musical director for the Chicago Symphony Orchestra - Ferruccio Burco, 8-year-old conducts Philharmonic - Serge Koussevitzky retires in 1949 - Arthur Judson continues as Manager of the Philharmonic, and head of Columbia Artists Management, that manages all of the conductors selected to lead the Philharmonic - Cancellation of plans for a European tour by the War Department - Loss of radio sponsorship by United States Rubber Company - Divorce of Eugene and Stephanie Ormandy - Profile of composer Arthur Honegger - Increase in subscriptions to concerts by the New York Philharmonic - Bruno Walter conducts Vienna Philharmonic at Edinburgh Festival - Opening of bar at Carnegie Hall - Leopold Stokowski opens 1947-48 season of the Philharmonic with glowing performances of music by Debussy, Brahms and Ravel - Production problems in Radio Music - Long term lease of Carnegie Hall signed - Praise for all-Russian program conducted by Leopold Stokowski - Centenary of Mendelssohn's death marked by Philharmonic by performance of his Scottish Symphony under Leopold Stokowski, which received its American Premiere by the Phiharmonic in 1845 - Article about Mendelssohn - Newspaper article reporting that Mendelssohn was elected an Honorary Member of the Philharmonic Society in 1846 and replied with a letter written in English - Tribute to Felix Mendelssohn by Olin Downes in the New York Times - Praise for Nathan Milstein's performances of the Dovrak Violin Concerto - Praise for performance of Schumann's Piano Concerto by Dame Myra Hess - Criticism of Elie Siegmeister's Symphony No. 1 - High praise for Ginette Neveu's performance of the Brahms Violin Concerto - High praise for Dimitri Mitropoulos' conducting of Richard Strauss' Eine Alpensinfonie - Oscar Levant plays Gershwin's Concerto in F conducted by Mitropoulos on same program as Mahler's Sixth Symphony - Profile of Arthur Judson, Manager of the Philharmonic-Symphony, "The Benevolent Despot of Music" by John Briggs in Esquire Magazine - Mitropoulos conducts the World Premiere of Ernst Krenek's Symphony No. 4, which generated very bad reviews - Mischa Elman plays Tchaikovsky's Violin Concerto in D - Raya Garbousova plays Philharmonic Premiere of Samuel Barber's Cello Concerto - Philharmonic Ball: "An evening of Austrian Music" - Celebration of Arthur Judson's twenty-five years as Manager and Executive Secretary of the Philharmonic - Erica Morini plays the Beethoven Violin Concerto - Sigi Weissenberg receives Leventritt Award - Mixed reviews for American Premiere of Arthur Honegger's Jeanne d'Arc au Bucher, conducted by Charles Munch with Vera Zorina - Article,"Before the Maestro Raps His Baton", by Howard Taubman in The New York Times Magazine - High praise for playing by Leonard Rose of Tchaikovsky's "Variations on a Rococo Theme" - Bruno Walter conducts Mahler's "Das Lied von der Erde" with Kathleen Ferrier and Set Svanholm to great acclaim
Project Funder
Preferred Citation
1947-48 Scrapbook (Part 1 of 2), 7 Feb 1947 - 20 Jan 1948, Folder 555-054-01, Communications/Public Relations Records, New York Philharmonic Leon Levy Digital Archives.
https://archives.nyphil.org/index.php/artifact/e1b0933b-ecfb-466a-838b-74badeabee99-0.1