Found In:
Executive > Judson, Arthur
Rodzinski, Artur, Dec 24, 1947 - Aug 28, 1948
ID:

011-01-54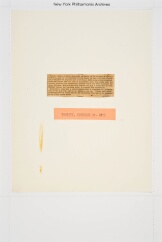 Folder Title
Dates
Dec 24, 1947 - Aug 28, 1948
Subjects
Names
Abstract
ALS-Artur Rodzinski. Dismissal of Artur Rodzinski by Chicago Symphony; Efforts by Friends of Chicago Symphony to reinstate Rodzinski; Press conference summary of Rodzinski's press conference addressing dismissal given in Chicago on 1 May 1948; Conflicts with Manager and President of Chicago Orchestral Association; Letters to Judson asking for resumption of relationship; Rejection by Judson; Account of Rodzinski's experience with Buchmanites in Switzerland.
Project Funder
Preferred Citation
Rodzinski, Artur, 24 Dec 1947 - 28 Aug 1948, Folder 011-01-54, Executive Records, New York Philharmonic Leon Levy Digital Archives.
https://archives.nyphil.org/index.php/artifact/e23ca4e3-d9f1-4a21-8f16-b2932c18c957-0.1