Found In:
Programs >
1878-79 Season >
Chamber
1879 Feb 09 / Chamber /
ID:

10128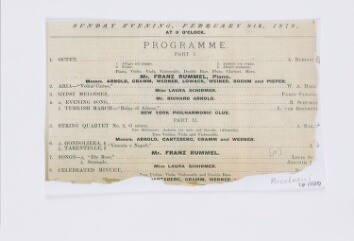 View Program
Orchestras
Musicians from the New York Philharmonic
Works
Mozart / Don Giovanni, K.527

"Vedrai, carino," Zerlina, Act II

Schumann / Twelve Four-Hand Piano Pieces for Children Little and Big, Op. 85 (Orch.) (Saint-Saens [Saint-Saëns], Camille)

"Abendlied (Evening Song)"

Beethoven / Overture and incidental music for Die Ruinen von Athen (The Ruins of Athens), Op. 113

Marcia alla turca (Turkish march)

Intermission
Liszt / Venezia e Napoli

Gondoliera, canzone del Cavaliere Peruchini (La biondina in gondoletta)
Tarantella da Guillaume Louis Cottrau (Presto e canzone napolitana)

Spohr / Zemire und Azor, woo 52

"Rose wie bist du reizend und mild" (Rose Softly Blooming), (aria)
Project Funder
Preferred Citation
Concert program, 9 Feb 1879, Program ID 10128, New York Philharmonic Leon Levy Digital Archives.
https://archives.nyphil.org/index.php/artifact/ec2a4bb7-1f1e-4eb9-90f1-f1652e0c3ec7-0.1