Found In:
Communications/Public Relations > Press Clippings
1958-59 Scrapbook (Part 2 of 5), Dec 22, 1957 - Aug 31, 1959
ID:

555-076-02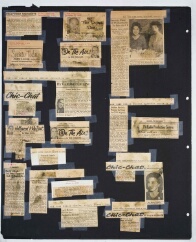 View Folder
Record Group
Communications/Public Relations
Series
Folder Title
1958-59 Scrapbook (Part 2 of 5)
Dates
Dec 22, 1957 - Aug 31, 1959
Subjects
Names
Abstract
- Jack Benny plays at a pension fund benefit concert - Benny presented with the "Golden Bow" by Herman Kenin, President of the American Federation of Musicians - Bruno Zirato retires as managing director of the Philharmonic - 1958-59 season programming to feature a survey of music by American composers from 1900 to the present - Bernstein introuces Thursday night "Preview" concerts, which feature the same program as formal concerts, but are accompanied by informal talks from the conductor about the evening's program; Musicians don European-style rehearsal uniforms for these concerts - Van Cliburn joins Leonard Bernstein in speaking at the Preview concert at Carnegie Hall - Arnold Steinhardt, winner of the Leventritt Award, amkes debut as Philharmonic soloist - Herbert von Karajan begins two week engagement as guest conductor; It is his first time conducting an American orchestra - Thomas Schippers is guest conductor with the Philharmonic - US Premiere of Mario Zafred's Symphony No. 4, with Gyorgy Cziffra making his New York Philharmonic debut on the piano - Benstein dedicates concert to the memory of Artur Rodzinski - Profile of composer Edgard Varèse - History of Fritz Kreisler attributing his own works to various composers - New York premiere of Aaron Copland's Orchestral Variations, an orchestral transcription of his 1930 Piano Variations - Copland makes a personal appearance at a "Preview" concert in December - Philharmonic presents all-Bach program with Roslyn Tureck joining Leonard Bernstein as a pianist-conductor - John Barbirolli returns to lead the Philharmonic as a guest conductor after sixteen years - Concertmaster, John Corigliano, performas as soloist for the Concerto for Violin and Orchestra by Sir William Walton - Berl Senofsky, violinist, makes first regular season appearances with the Philharmonic - Former principal cellist of the Philharmonic, Leonard Rose, returns to feature as soloist on Samuel Barber's Cello Concerto, Op. 22 - French cellist, Maurice Gendron make Philharmonic debut - New York premiere of Roger Sessions' Violin Concerto - New York Philharmonic presents "French Music Month" - Pierre Monteaux is guest conductor, with Rudolf Serkin as soloist - Philharmonic presents concert version of Debussy's Pelleas et Melisandre under the direction of Jean Morel - Mayor Wagner kicks off the Handel Festival in New York City, honoring the bicentary of the death of George Frederic Handel - Glenn Gould appears as soloist in Mozart's Concerto in C minor - World Premiere of Kenneth Gaburo's Elegy - Lukas Foss fills double role as conductor and soloist - New York premiere of Foss' Symphony of Chorales - Bernstein conducts the world premieres of two American works on the same program, Ned Rorem's Third Symphony and William Russo's Third Symphony - American premiere of Paul Ben-Haim's The Sweet Psalmist of Israel featuring Sylvia Marlow on the harpsichord and Christine Stavrache on the harp - Interview with Paul Ben-Haim on the state of music in Israel - Adele Addison and John McCollum are soloists on Handel's Ode to St. Cecilia's Day in the final concert of the season
Project Funder
Preferred Citation
1958-59 Scrapbook (Part 2 of 5), 22 Dec 1957 - 31 Aug 1959, Folder 555-076-02, Communications/Public Relations Records, New York Philharmonic Leon Levy Digital Archives.
https://archives.nyphil.org/index.php/artifact/ed7a9582-0e42-4a60-9cfb-d5c31c938055-0.1