Found In:
Programs >
1896-97 Season >
Subscription Season
1896 Oct 25 / Subscription Season / Damrosch
ID:

10559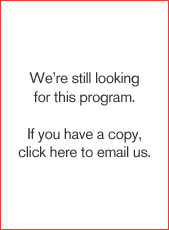 Works
Bizet / Carmen Suite No. 1

Prelude. Andante moderato (Prelude to Act I)
Aragonnaise. Allegro vivo (Prelude to Act IV)
Intermezzo. Andantino quasi Allegretto (Prelude to Act III)
Notes
"Second Popular Concert"
Rachel Hoffmann: "Her First Appearance in America"
"In fernem Land": listed in program as "The Holy Grail," from Lohengrin, Act III.
Project Funder:
Collection Guarantor: