Found In:
Communications/Public Relations > Press Clippings
1939-40 Scrapbook (Part 4 of 5), Dec 29, 1939 - Mar 10, 1940
ID:

555-034-04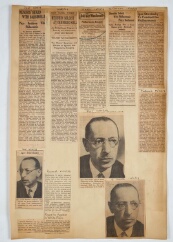 Record Group
Communications/Public Relations
Series
Folder Title
1939-40 Scrapbook (Part 4 of 5)
Dates
Dec 29, 1939 - Mar 10, 1940
Subjects
Names
Abstract
- Georges Enesco unable to conduct his scheduled Philharmonic performances as he is sick in Italy; Stravinsky and Barbirolli covers for his engagement - Dorothy Maynor to perform in Pension Fund Concert on Jan 16 - Stravinsky conducts two concerts featuring his own works - Rudolph Ganz conducts the remainder of the Young People's Concerts for the season - Musical America article from December 25, 1939 about Ernest Schelling's life - Winner of 1941 Young Artists' contests of the National Federation of Music Clubs will appear as soloists in Carnegie Hall with the New York Philharmonic - Article by Arthur Judson in Musical Courier on December 1, 1939, "What the Symphony Orchestra Means to Your Community" - Profile on Stravinsky and his thoughts on his new symphony, Walt Disney, criticism, and Tchaikovsky - Anatol Zaminsky Philharmonic debut - Bernardino Molinari takes over NBC concerts - Mabel Boll to wed Theodore Cella, Philharmonic harpist - Rachmaninoff appears as soloist with Philharmonic, performing Beethoven Piano Concerto No. 1 in C major, Op. 15 - Prokofiev cancels appearance with the Philharmonic; Due to political conditions he is unable to obtain a visa for the trip to the United States - Rudolph Ganz leads a Young People's Concert including works by the late Ernest Schelling - Russian pianist Simon Barer is soloist with the Philharmonic, performing Tchaikovsky's Piano Concert in B-flat Minor - Philharmonic plays at a concert to benefit the Czechoslovak Relief Fund, conducted by Walter Damrosch and Herman Adler and featuring pianist Germaine Leroux - Philharmonic League honors Mayor La Guardia at their second annual Symphony League Luncheon - Death of Edwin T. Rice, music patron member of the Philharmonic board of directors - Mayor La Guardia suggests the Philharmonic set up a musical minor league where talent could be developed for the Philharmonic, similar to baseball minor leagues - Composition by Eugene Zador conducted by Barbirolli on Feb 4 - Concert exchange announced with Chicago Symphony - American premiere of John Powell's suite A Set of Three Op. 33 - Magda Tagliafero makes her American debut with the Philharmonic - Press clipping book from the 1939 Fall Tour (U.S./Canada)
Project Funder
Preferred Citation
1939-40 Scrapbook (Part 4 of 5), 29 Dec 1939 - 10 Mar 1940, Folder 555-034-04, Communications/Public Relations Records, New York Philharmonic Leon Levy Digital Archives.
https://archives.nyphil.org/index.php/artifact/fac04bb7-7885-45b5-94bf-f739f7da1cdd-0.1