Found In:
Programs >
1967-68 Season >
Subscription Season
1967 Nov 17 / Subscription Season / Steinberg
ID:

6186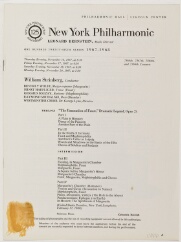 View Program
Works
Intermission
Berlioz / La Damnation de Faust (The Damnation of Faust), Op. 24

"Le Vieil Hiver," Faust (aria), scene 1
"Les Bergers Quittent Leures Troupeaux" (Peasant Dance), Faust/chorus, scene 2
"Mais d'un eclat guerrier les campagnes," Faust (aria), scene 3
Rakoczy March (Hungarian March)
"Oh! Qu'il fait bon!" Chorus/Brander
"Certain rat, dans une cuisine...Amen!" (Brander's Song/Fugue on Brander's Song), Brander and Chorus
Ballet Des Sylphes
"Villes entourees," Chorus of Soldiers and Students, scene 8, Finale
"Merci, doux crepuscule!" (Faust's Aria), Faust (aria)
"Que l'air est etouffant!...Autrefois un Roi de Thule" (Chanson Gothique/The King of Thule), Marguerite (recit/aria), scene 11
Menuet de Follets (Minuet of the Will-o'-the-Wisps)
"D'amour L'ardente Flamme" (Marguerite's Romance), scene 15
"Pandemonium: Has! Irimiru Karabrao!/ Tradioum Marexil" (Chorus of the Damned and the Demons), scene 17
"Alors, L'Enfer Se Tut" (Epilogue Sur La Terre), Chorus, scene 20
"Laus! Laus! Hosanna!...Remonte au ciel (Margarita's Glorification), Chorus
Project Funder
Preferred Citation
Concert program, 17 Nov 1967, Program ID 6186, New York Philharmonic Leon Levy Digital Archives.
https://archives.nyphil.org/index.php/artifact/24b8c6e0-72ad-4a9d-b815-3f7b8e2ca8fd-0.1