Found In:
Programs >
1910-11 Season >
Tour
1911 Feb 28 / Tour / Spiering
ID:

9418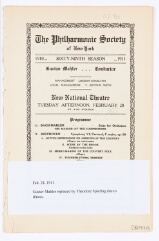 View Program
Notes
Mahler was taken ill at the concert on Feb. 21, 1911 and did not conduct the rest of the season.

This program was altered, probably because of Mahler's absence. They did not play Mahler's arrangement of the Bach Suite or Weber's Overture to Oberon. MacDowell's Piano Concerto in D major was added with Ernest Hutcheson as the soloist.
Project Funder:
Collection Guarantor: