Found In:
Programs >
1944-45 Season >
Stadium Concert
1945 Jun 22 / Stadium Concert / Smallens
ID:

10801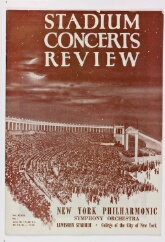 View Program
Works
Handel / Serse

"Frondi tenere ... Ombra mai fu"

Wagner / Die Meistersinger von Nuernberg, WWV 96

Preislied, Walther (aria), Act III, scene ii

Intermission
Benjamin / Two Jamaican Pieces
Kalman [Kálmán] / Countess Maritza
Kalman [Kálmán] / Die Zigeunerprimas

"Love's Own Sweet Song" (Sari Waltz)

Gershwin / Porgy and Bess

Summertime, Clara, Act I, scene 1
It Ain't Necessarily So, Sportin' Life/Chorus, Act II, scene 2
Notes
From NY Times reviews:
June 19 performance cancelled due to rain (originally to have been performed: CPE Bach - Concerto for Stringed Instruments in D major, arr. Steinberg; Haydn - Symphony in C minor, No. 78; intermission; Beethoven - Symphony in E-flat, No. 3 (Eroica))
June 21 performance postponed due to rain
June 22 originally schedulled program cancelled (originally to have been performed: Auber - Overture to masaniello; Franck - Symphony in D minor; intermission; Wagner - Prelude to Die Meistersinger; Delius - A Walk To Paradise Garden, from A Village Romeo and Juliet; Strauss - Tone Poem, Don Juan); June 21 program presented instead.

Kalman, Kern and Gershwin listed in program as "Group of Songs with Orchestra"
Project Funder:
Collection Guarantor: