Found In:
Programs >
1995-96 Season >
Subscription Season
1995 Oct 19 / Subscription Season / Mauceri
ID:

7766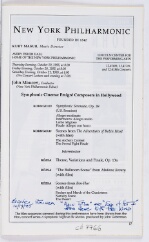 View Program
Notes
Symphonic Cinema: Emigré Composers in Hollywood
Pre-Concert Lecture at 7:00.
The Adventures of Robin Hood, Madame Bovary, and Ben-Hur: with film.
The film sequences screened during this performance have been drawn from the film/concert series "A Symphonic Night at the Movies," produced by John Goberman.
Project Funder:
Collection Guarantor: