Found In:
Programs >
1935-36 Season >
Special
1935 Nov 11 / Special / Lange
ID:

10062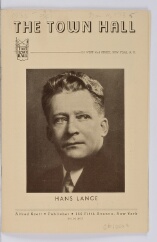 View Program
Orchestras
Members of NY Philharmonic
Notes
"Music of the 16th, 17th and 18th Centuries"
Purcell: Fantasia upon one note repeated as an encore. (see "Time" review, Nov. 25, 1935). Need Warlock/Mangeot numbering explanation to clarify which pieces were actually performed.

First in series of five concerts, "Five Centuries of Chamber Music," sponsored by Bennington College and introducing the newly-formed Philharmonic-Symphony Chamber Orchestra.
Project Funder:
Collection Guarantor: