Found In:
Programs >
1929-30 Season >
Stadium Concert
1930 Aug 14 / Stadium Concert / Lange
ID:

12666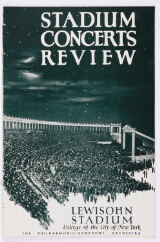 View Program
Notes
The Denishawn Dancers entitled their dances as such:

1. "A Buddhist Festival"........Native Airs

2. "Metal Fantasy"..............Lyadov

3. "Valse Extase"................De Lachau

4. "Josephine and Hippolyte"..Drigo
Source that suggests the Serenade was played: http://tinyurl.com/lll3k8k
Based on the review "Rain Halts Denishawns" (NY Times, 15 Aug 1930),
it appears as though the encore performed in the first half of the concert was a repeat of this piece.

5."Angkor-Vat -- A Legendary
Ballet of a Khmerian Day"...Sol Cohen

The rest of the concert was interrupted by rain. See program 12664 (12 August 1930) for original program.
Project Funder:
Collection Guarantor: