Found In:
Programs >
1892-93 Season >
Subscription Season
1893 Feb 23 / Subscription Season / Damrosch
ID:

13756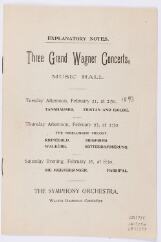 View Program
Works
Wagner / Das Rheingold, WWV 86a

Entrance of the Gods into Valhalla, scene iv (final scene)
"Heiajaheia! Heiajaheia!...Leuchtende Lust, wie lachst du so hell und hehr!" (Lament of the Rhine Daughters), scene i

Wagner / Die Walkure, WWV 86b

"Winterstuerme wichen dem Wonnemond" (Winter Storms Have Vanished Before Maytime")
Notes
From Carnegie Hall performance history search. No soloist listed for "Siegfrieds Tod"
Project Funder:
Collection Guarantor: