Found In:
Programs >
1967-68 Season >
Subscription Season
1967 Oct 16 / Subscription Season / Bernstein
ID:

1786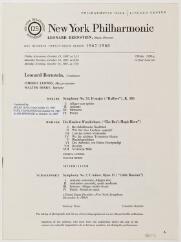 View Program
Works
Mahler / Twelve Songs from Des Knaben Wunderhorn, (The Boy's Magic Horn)

"Der Schildwache Nachtlied" ("The Sentinel's Nightsong")
"Wer hat dies Liedlein erdacht?" ("Who Thought Up This Little Song?")
"Lob des hohen Verstandes" (Praise from an Advanced Intellect")
"Wo die schönen Trompeten blasen" ("Where the Fair Trumpets Sound")
"Rheinlegendchen" ("Little Rhine Legend")
"Des Antonius von Padua Fischpredigt" ("St. Anthony of Padua's Sermon to the Fishes")
"Revelge" ("Reveille")
"Verlo'ne Mueh'" ("Labor Lost")

Intermission
Project Funder
Preferred Citation
Concert program, 16 Oct 1967, Program ID 1786, New York Philharmonic Leon Levy Digital Archives.
https://archives.nyphil.org/index.php/artifact/eb774e45-63a7-4f34-bc79-075e6d6db81d-0.1