Found In:
Programs >
1907-08 Season >
Subscription Season
1907 Dec 28, 29 / Subscription Season / Damrosch
ID:

8189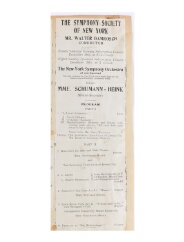 View Program
Works
Intermission
Handel / Concerto a due cori, No. 2 in F major
Wagner / Rienzi, der Letzte der Tribunen, WWV 49

"Gerechter Gott...In seiner Blute," Adriano (aria), Act II

Wagner / Excerpts from Tristan und Isolde, WWV 90 (Damrosch, Walter)
Wagner / Tristan und Isolde, WWV 90

"Einsam wachend in der Nacht" (Brangäne's Call), Brangäne, Act II, scene ii

Wagner / Die Meistersinger von Nuernberg, WWV 96
Notes
Tristan and Isolde: NYT review states that Damrosch arrangements were performed, but Schumann-Heink is also listed as soloist. Assumed Love Music was performed in Damrosch's orchestral arrangement, with Schumann-Heink singing the part of Brangaene's Call (unarranged).

The Symphony Society Bulletin was a newsletter produced in advance of the New York Symphony concerts. It is not known at this time if what was programmed actually happened. There is no known complete set of New York Symphony programs so all performance information is compiled from a variety of sources.
Project Funder:
Collection Guarantor: