The Special Case of Steffy Goldner
Exhibit – The Backstory
The exhibit opened on the Grand Promenade of David Geffen Hall on February 5, 2020 for the first Project 19 performances, and remained in place until February 22. The case then began a tour, starting at the Austrian Cultural Forum, Washington, D.C., for the months of March and April 2020.
In 2014, Zachary Tori Sneed, a furniture restorer in North Carolina acquired Goldner's traveling harp case, a 1920-era shipping case that traveled with the Philharmonic's first tour to Europe in 1930. Upon discovery of Goldner's name and the Philharmonic's stamp on the front of the case, he contacted the New York Philharmonic Archives. The artifact was driven up to Lincoln Center and has since become a treasured part of the New York Philharmonic's collection.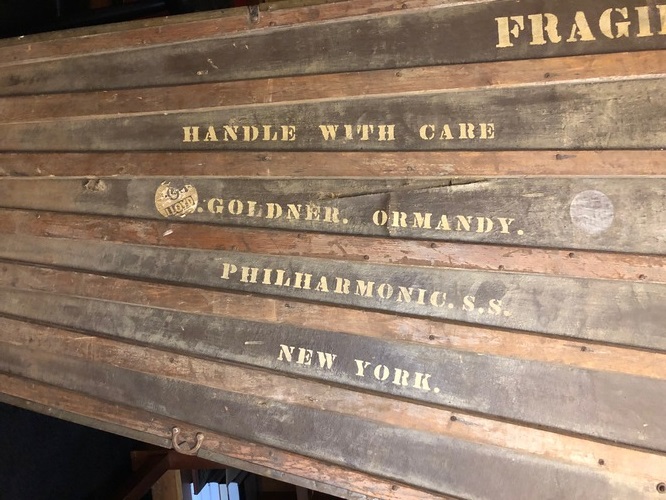 The installation, designed by Swiss/Austrian artist Nives Widauer, invites audiences to experience Goldner's unique role as professional musician, housewife, mother, and humanitarian. Her experience speaks to what life was like for women musicians in the first half of the 20th century, touching on many shifting musical, political, and gender issues that connect the New York Philharmonic to women's history around the time of the suffrage movement.
Widauer has worked with instrument cases before. In 2017 she curated Special Cases, an exhibit of Vienna Philharmonic travelling instrument cases for the VPO's 175th anniversary. While setting up the installation in New York, a Viennese harp case was not delivered in time. Widauer asked the New York Philharmonic archivists if they had a spare case to complete the structure and they offered Steffy Goldner's. The unique story behind the case, Goldner's Austrian roots, and the fact that it became part of the VPO structure supporting the smaller Viennese cases, inspired Widauer to further pursue the idea.
Memorabilia like those below were culled from invaluable sources including from the New York Philharmonic Archives, Doris Balant, the University of Pennsylvania Special Collections, as well as the Rodgers and Hammerstein Archives of Recorded Sound at the New York Public Library for the Performing Arts.