Listening Through Time
featuring Joseph Alessi (trombone)
This episode of Listening Through Time features the New York Philharmonic's principal trombone, Joseph Alessi in conversation with the Orchestra's Archivist and Historian Emerita Barbara Haws, considering how trombone and trumpet performance practices and interpretations have changed over the decades. One of Leonard Bernstein's Hunky Brutes, Alessi discusses former Philharmonic members of the Metropolitan Opera.
Works discussed are Tchaikovsky Sixth Symphony, Mahler's Symphonies conducted by Bernstein, and R. Strauss Ein Heldenleben, and Shostakovich's Symphony No. 5. Philharmonic players discussed are Armand Ruta, Mario Falcone, and Gordon Pulis, Simone Mantia, Warren Deck and Don Harwood.
About Joseph Alessi
Joesph Alessi was born into a musical family. He has said, "My earliest musical memory is my mother singing to me when I was about three — she was a soprano at The Met. My father played trumpet at The Met, as did my grandfather, who came to the U.S. from Sicily and became the cornet soloist at the Rialto Theater." Mr. Alessi began musical studies in his native California with his father, Joseph Alessi, Sr. As a high school student, he appeared as a soloist with the San Francisco Symphony before continuing his musical training at the Curtis Institute of Music. Before joining the Philharmonic, Mr. Alessi was second trombone of The Philadelphia Orchestra for four seasons, and principal trombone of the Montreal Symphony Orchestra for one season. Then, in the spring of 1985, Joseph Alessi was appointed Principal Trombone of the New York Philharmonic, The Gurnee F. and Marjorie L. Hart Chair.
Mr. Alessi is an active soloist, recitalist, and chamber musician. In April 1990 he made his New York Philharmonic solo debut, performing Creston's Fantasy for Trombone, and in 1992 premiered Christopher Rouse's Pulitzer Prize–winning Trombone Concerto with the Philharmonic, which commissioned the work for its 150th anniversary celebration.
Outside of the Philharmonic, Mr. Alessi has been a guest soloist with numerous symphonic orchestras worldwide. He is a founding member of the Summit Brass ensemble at the Rafael Mendez Brass Institute in Tempe, Arizona. In 2002, Mr. Alessi was awarded an International Trombone Association Award for his contributions to the world of trombone music and trombone playing.
Joseph Alessi is currently on the faculty of The Juilliard School, a position he has occupied since 1986; his students now occupy posts with many major symphony orchestras in the U.S. and internationally. As a clinician for the Edwards Instrument Co., he has also given master classes throughout the world and has toured Europe extensively as a master teacher and recitalist.
Mr. Alessi's discography includes many releases on the Summit record label, including Trombonastics and Fandango, with retired Philharmonic Principal Trumpet Philip Smith (Mr. Smith was featured on a previous episode of this podcast). Mr. Alessi was invited by the International Trombone Association to record a solo disc of newly composed works, which was distributed to the Association's membership of 5,000 trombonists in early 1999 and is now available as Beyond the End of the Century through Summit Records. His recording of George Crumb's Starchild on the Bridge record label, featuring Mr. Alessi as soloist, won a Grammy Award for 1999–2000. Further information about Mr. Alessi can be found on his website, www.slidearea.com.
New York Philharmonic Trombone Sections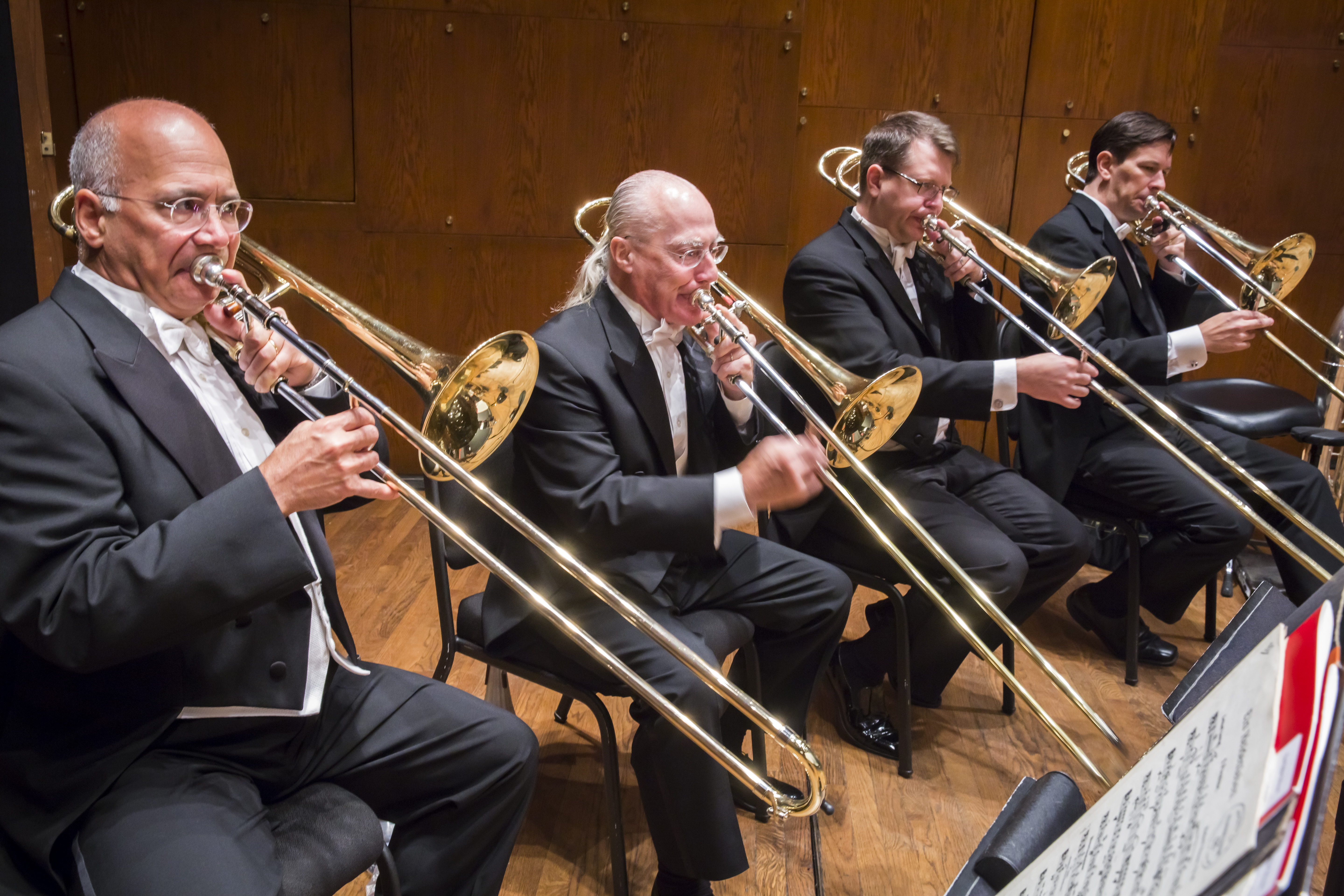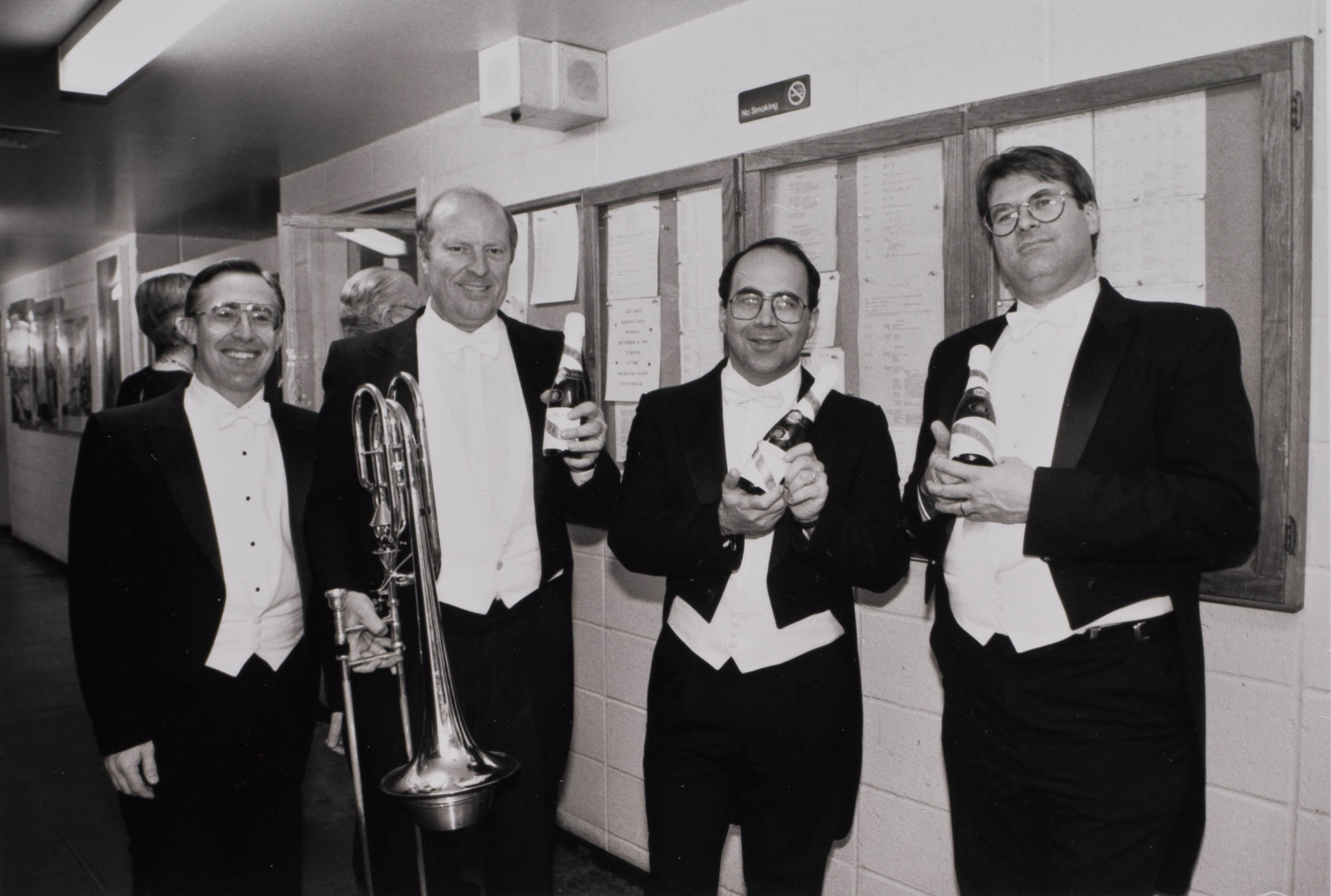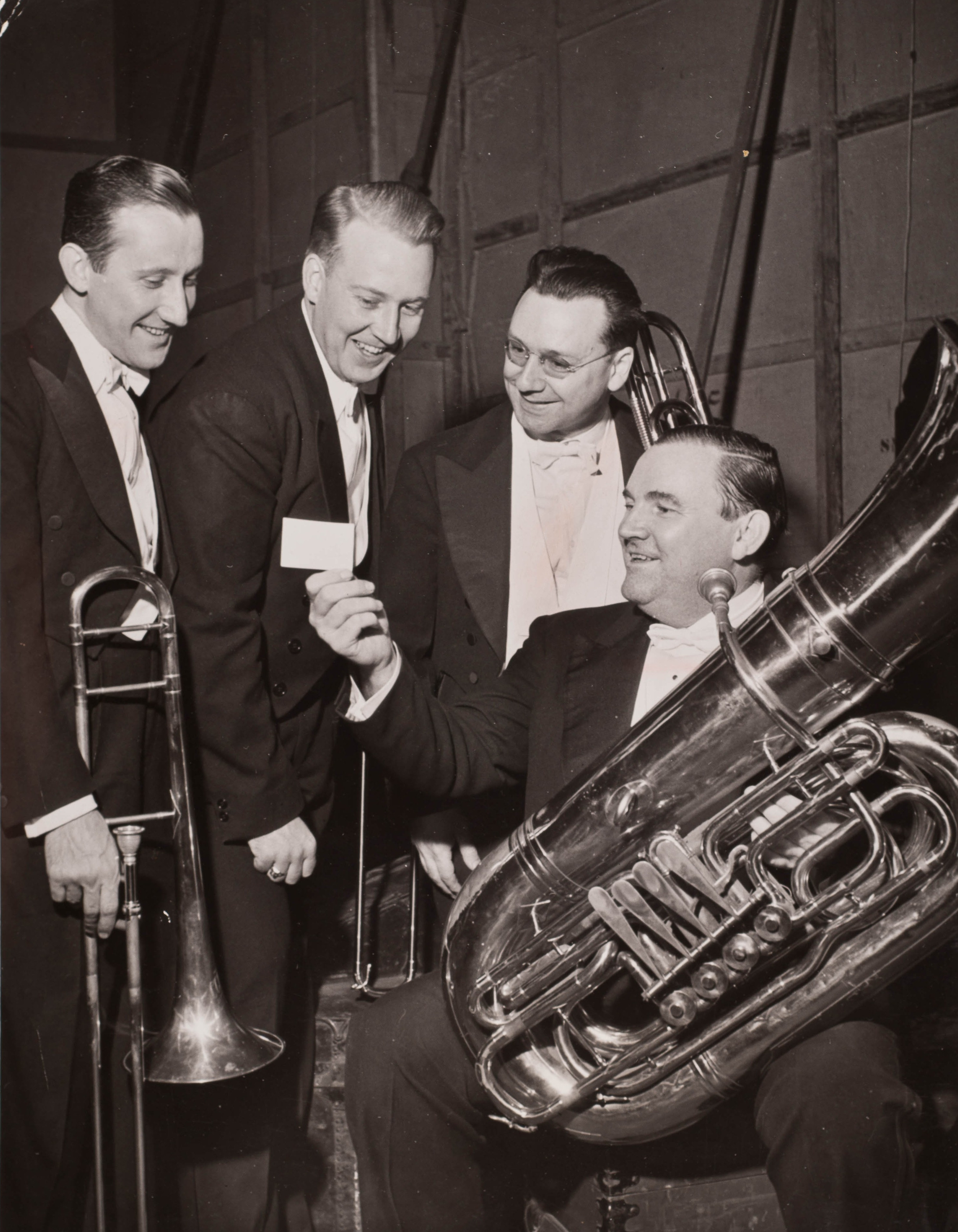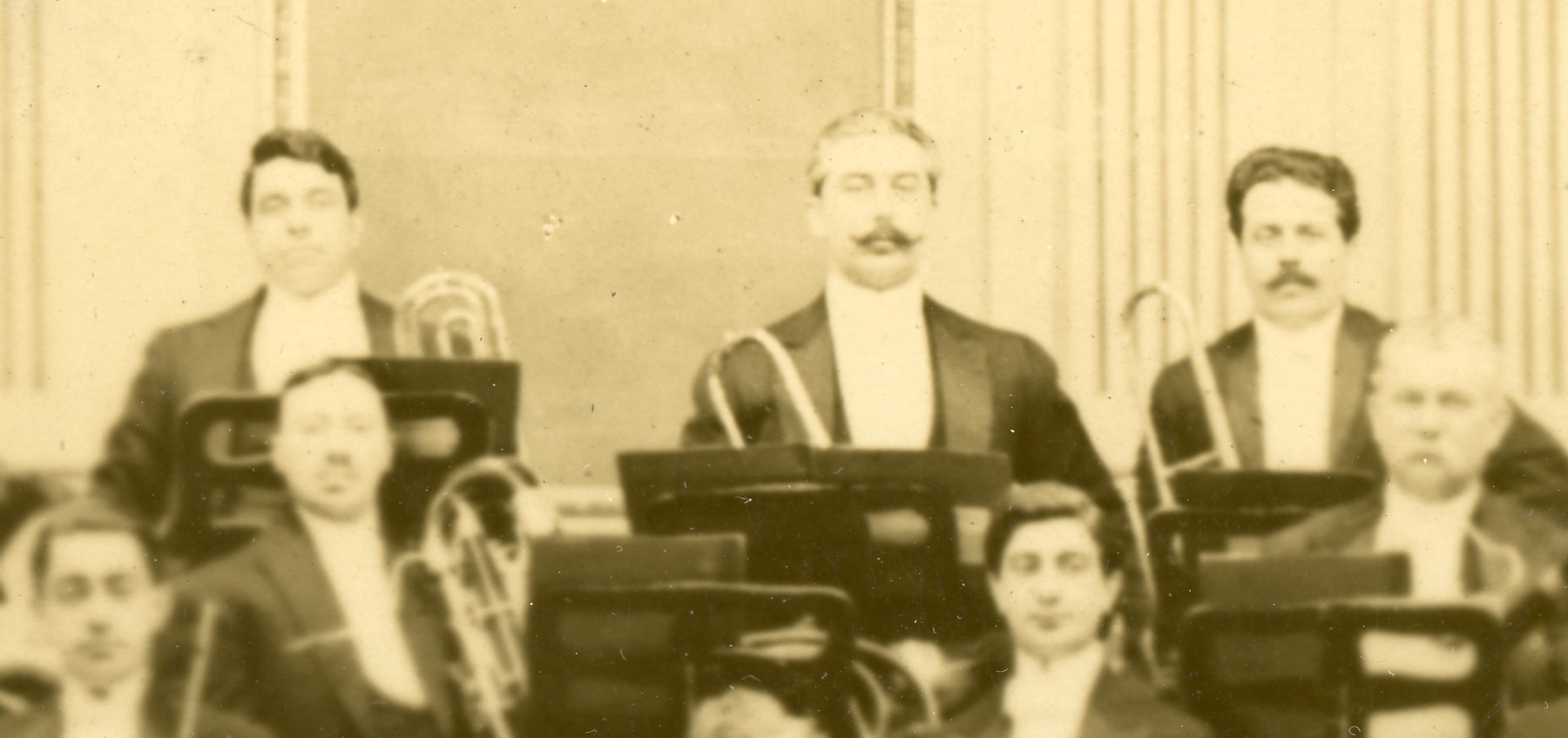 Return to Listening Through Time home.